1400 NMC babus to be deployed on Lok Sabha poll duty in city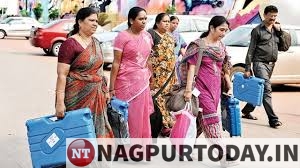 Nagpur: With the announcement of Lok Sabha election schedule, the district and police administration in Nagpur put them in top gear to conduct the poll in free, fair and peaceful manner. The administration will need around 40,000 employees and officials, including 1400 babus of Nagpur Municipal Corporation, for the task to be done. The District Election Department has sent NMC a list of employees to be deployed on election duty. The list includes officials and employees of all departments along with the General Administration Department.
In the month of March, the Property Tax Department and Town Planning Department recover taxes in larger scale. A proper planning is done for this. But with the deployment on election duty, the work in these two departments has gone haywire. It will result in tax recovery getting a hit. Against the target of Rs 509 crore of Property Tax, the recovery could be in the bracket of Rs 215-220 crore. Even though the actual deployment is yet to take place, an uneasy calm prevails in almost all departments of civic body at its headquarters in Civil Lines.
The Lok Sabha polls in Nagpur and Ramtek constituencies are to be held on April 11. The notification will be issued on March 18. Last date for filing nominations is March 25. Scrutiny of nominations papers will be on March 26. Last date for withdrawal is March 28. Voting will be on April 11 and counting of votes on May 23. The entire election process will be completed on May 27.
The Municipal Commissioner Abhijit Bangar has asked all the heads of departments to ensure strict implementation of the Model Code of Conduct for Lok Sabha elections. At the same time, during the period of the enforcement of Model Code of Conduct, the works relating to water supply and healthcare should not stop, he added.
Bangar said that no new tenders should be issued during the period of enforcement of Model Code of Conduct. But, works for which work orders were issued prior to Code of Conduct coming into force, should continue, he said.
Following the requisition of its services by Election Commission of India (ECI), Investigation Directorates of IncomeTax (IT)Department has set up a 24×7 control room to curb the use of black money during general elections to Lok Sabha. Accordingly, the Office of Principal Director of IncomeTax (Investigation), Nagpur, is in the process of gathering intelligence and keeping strict watch over the movementof cash and valuables and 'other unlawful means' of influencing elections within its jurisdiction and take necessary action under Income Tax laws against the offenders. The 24×7 control room has been set up at the Office of Principal Director of Income Tax (Investigation), Nagpur. Those having information may dial the toll-free number 1800-233-3785 set up for receiving the complaints/information regarding black money circulation and its use for election purposes. Information may also be furnished on the number 9403391664 through WhatsApp. A 24x7faxnumber0712-2525844 also has been installed in the said office to receive any information on circulation of black money.