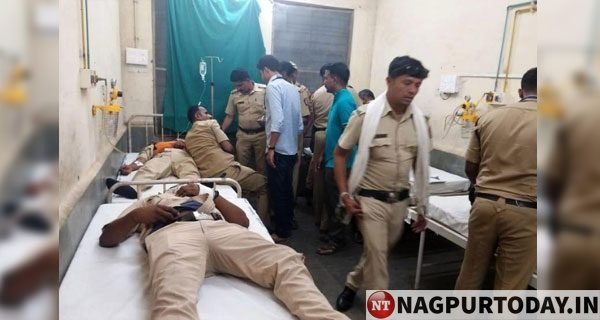 Gondia: At least 12 jawans of SRPF were injured when the police vehicle they were travelling in met with a mishap and turned turtle on Wednesday night. The injured jawans have been admitted to KTS Hospital and Bajaj Central Hospital here. Two jawans were discharged after first aid.
The police vehicle, carrying 27 jawans of Pune's Group D SRPF, was deployed for bandobast during the visit of Prime Minister Narendra Madi on Wednesday night. After Modi's public meeting, the police vehicle (MH-42/B 6850) left for Amgaon from Gondia's bypass ring road around 10 pm. Midway near village Thana, a goods vehicle coming from opposite direction zoomed past the police vehicle in reckless speed.
As a result, the driver of police vehicle lost control and the vehicle swerved off the road and turned turtle. The passers-by immediately rushed to help of trapped policemen. They pulled out the jawans from emergency door. The injured jawans were taken to Gondia's KTS Hospital and Bajaj Central Hospital.
Of the 12 jawans, two were discharged after first aid while five seriously injured were being treated in Bajaj Central Hospital. Four other injured jawans are taking treatment in KTS Hospital. Names of injured are ASI Chunnilal Rathod, Amit Jagtap, Rahul Londhe, D D Dange, Vishal Kamble, Bharat Dhondiram Malavade, Samar Bansod, M J Koli, Satyavan Kamble, Ravi Neware and Vishal Kamble.
DSP Dr Vinita Sahu, DySP Sandeep Atole, City Police Inspector Manohar Dabhade and other officials visited the hospitals and enquired about the health of injured jawans.