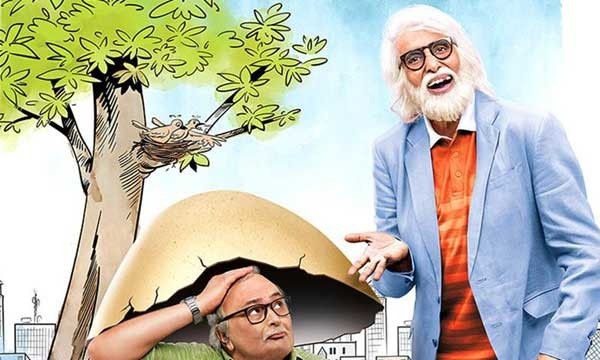 Mumbai: One would assume that working with two legends of Hindi cinema might be a daunting task, but filmmaker Umesh Shukla says directing Amitabh Bachchan and Rishi Kapoor in "102 Not Out" was easy as they do not "impose ideas".
The director, who previously helmed the critically-acclaimed "OMG: Oh My God!", has adapted playwright Saumya Joshi's popular Gujarati play "102 Not Out" for his latest, billed as the most unusual father-son story. "The best part about both, Bachchan and Rishi sir is that they are very curious as actors. They want to know things and hence shooting with them was easy. They were never imposed their ideas. If they are convinced regarding a scene, they will never impose or interfere. They would understand the director's vision," Shukla told PTI.
The director says much of the baggage of pressure had vanished after he did a workshop with Bachchan and Kapoor before the film went into production mode. "We had already done a workshop before starting the film so that both of them get comfortable and even I become comfortable. So there was no pressure on the sets. "Honestly, it is easy to work with senior actors because they come with their experience, which helps. I never felt working with these legends was a 'burden'. It was more of a learning experience," he says.
The comedy-drama, scheduled to release this Friday, reunites the powerhouse performers on screen after 27 years. The two actors have earlier appeared together in films such as "Kabhie Kabhie", "Amar Akbar Anthony", "Naseeb", "Coolie" and "Ajooba". In Shukla's film, Bachchan plays a fun-loving 102-year-old friendly father, while Kapoor plays his 75-year-old son. For "102 Not Out", Umesh and the team conducted a research on how to get the look right for both the actors. He credits the two legends for being patient with the heavy prosthetic make-up and yet went all out to give their best performance.
"It used to take hours to get their make-up done and then to wear that and shoot in the heat, it was very tedious. They used to sweat a glass-full by the end of the shoot when the prosthetics were removed, sometimes they used to wear the make-up for 10 hours. "But they never complained about it and that is where their greatness comes from. I am blessed I got to work with them," he says.