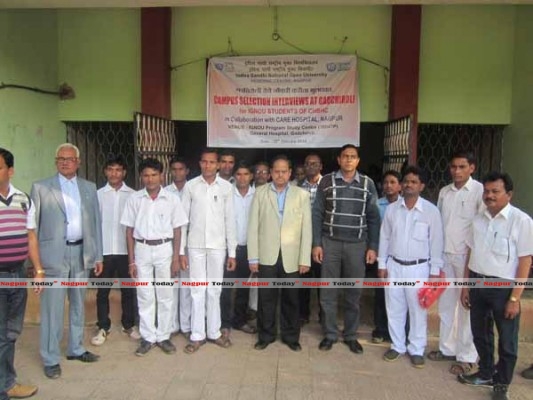 Nagpur News: IGNOU Nagpur Regional Centre provided 100% placement to its students at Gadchiroli, who did the 6 months Certificate in Home Based Health Care (CHBHC) Programme, in the Campus Selection Interviews! This is a Course, which requires 10th Class pass as entry qualification.
Total 48 students (of July-December 2013  Batch) attended the Campus Selection Interviews held at Gadchiroli on 25th January 2014. The Employer, Care Hospitals, Nagpur with their Team conducted the interviews. The Recruiters were so overwhelmed with the quality of the students. They appreciated very much with the theoretical and practical knowledge, these students are having. So, they selected all the 48 candidates for employment.
One of the girl student, Ms Trupti Kharbade, is mother of two girls, is in her late 20s. Unfortunately she lost her husband just before commencement of this Course in July 2013. But to fulfill her late husband's insistence to stand on her feet, she completed the Course and is also selected for the job, in this campus selections. She was so happy that as she can stand on her own feet and bring up her kids.
A similar Batch of students of previous year (July-December 2012) at St. Joseph Hospital, Yerla Village were also totally employed by the same Hospital, after they successfully completed their CHBHC Programme.  After this success, IGNOU Regional Director Dr P Sivaswaroop and his team made serious efforts to provide this job oriented vocational Course for the youth of the backward, trouble torn Gadchiroli District. For establishing the Centre in a suitable Hospital, visits were made to interior places like Allapalli, Bhamragarh etc. Ultimately, with the support of Dr Farooqui, the Civil Surgeon of the General Hospital, Gadchiroli, a Programme Study Centre was established in the General Hospital, Gadchiroli. Surprisingly, the response for admissions was overwhelming, that filled in forms were received double the number of seats available. So, in order to provide opportunity to the desiring learners and maintain quality by avoiding over crowding,  another Programme Centre was opened in the Christanand Hospital, Brahmapuri. During the Course period, students have been continuously advised to pursue the course with quality. Regional Centre Teams made frequent visits to these Centres, for quality monitoring.
It was a fruitful day on 25th January 2014, as IGNOU could fulfill its word of job placement to these tribal students of  Gadchiroli District. (especially looking into their low qualification of 10th pass, eligible for admission to CHBHC Programme).Perhaps, this is the first time that any University has conducted Campus Selection Interviews at Gadchiroli. More over 100% selection of all those who attended is also a remarkable achievement. Some of the students are so enthusiastic that they continued in the respective Hospitals, for getting experience to work in a Hospital, even after completing their Exams in December.
Dr P Sivaswaroop, Regional Director expressed his thanks to all those involved in this socially relevant activity, especially Dr Rammurti Meena and Dr Vikas Singhal ARDs, Shri CH Rajgure, Executive Assistant, Smt Lalita Dongre, Programme Incharge of the Gadchiroli General Hospital Centre, Dr Nitin Chouhan of Brahmapuri Centre and Dr Sanganwar of Gadchiroli General Study Centre. He specially thanked Dr Ravi Mannadiyar, Chief Hospital Administrator of Care Hospitals, Nagpur and their Management.