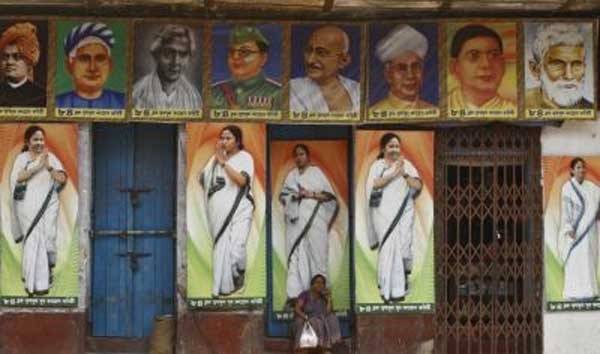 A 25-year-old man was on Friday shot dead in West Bengal's South 24 Parganas district during an attack on a procession by independent candidates in the May 14 panchayat polls in the state.
Trinamool Congress strongman Arabul Islam was arrested in connection with the incident late in the night on the order of Chief Minister Mamata Banerjee, who is also in charge of the home department.
"I have asked the police to arrest Arabul immediately. He has done something wrong," she said in the evening soon after the violence.
Arabul Islam was arrested from the backyard of his house where he was hiding, the police said.
According to the police, Hafizul Islam Mollah, a supporter of an independent candidate, was hit by a bullet on his chest when he along with other supporters were taking part in a procession from Kashipur to Machhibhanga at around 4.30 pm.
Most of the independents are associated with the Jami Rakkha Committee (Save Land Committee), an anti-land acquisition outfit opposing the setting up of a power grid unit in Bhangor.
The procession was taken out in response to an alleged attack by Arabul Islam's associates on the residence of one of the independent candidates last night.
Arabul, who is the chairman of the Bhangor II panchayat samiti, is up against an independent candidate in the May 14 rural polls.
There was tension between the two sides since morning and tyres were burnt on the road allegedly by Arabul's supporters to stop the progress of the procession.
Hafizul was grievously injured when bombs and bullets rained on the members of the procession. He was rushed to a nursing home and then to a hospital, where he was declared brought dead, the police said.
The Jami Rakkha Committee alleged that Arabul's men had unleashed the violence so that he could win the election without any opposition.
They also claimed that several other supporters of the committee were injured in the attack.
A large police contingent was deployed at the spot to maintain peace, the police said. –