In an exclusive talk with Nagpur Today, DCP Meena underlined his priorities, strategy to maintain law and order and subsequently the peace in his Zone and the city as well.
Nagpur News.
This cop stands firm with his inbuilt asset which is Zero… which means zero tolerance to crime. Meet Chandra Kishore Meena (IPS), the Deputy Commissioner of Police Zone-4 in Nagpur. In an exclusive talk with Nagpur Today, DCP Meena underlined his priorities, strategy to maintain law and order and subsequently the peace in his Zone and the city as well. Zone-4 comprises six police stations namely Ajni, Hudkeshwar, Imambada, Sakkardara, Nandanvan and Dhantoli Police Station.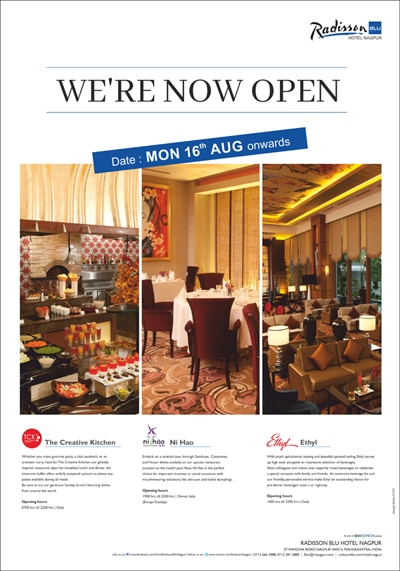 At the outset, DCP Meena dwelt on his childhood and family. "Basically, I hail from Alwar in Rajasthan. June 11, 1977 is my date of birth and year. My father was an engineer in Railways. My family had to move from one place to another whenever father was transferred. We stayed in Madhya Pradesh, Maharashtra and at other places. But my maximum education was in Mumbai. Since my father was an engineer, I too became an engineer (Civil) and initially did jobs in some private companies. But at the same time I had a dream. Dream to do something different. And because of this dream, I am talking to Nagpur Today as Deputy Commissioner of Police," Chandra Kishore Meena said.
"The UPSC exam provided a perfect platform in shaping my dream. After passing the exam, I joined the 2006 Batch of IPS in Maharashtra Cadre at the age of 28 years. After one year of training, my first posting, and challenge as well, was Superintendent of Police of Gadchiroli District. A Naxal-infested area. I accepted the challenge and did my best to curb the Naxal activities with heavy hand and human hand, too. I succeeded in bringing many Naxal-minded people, particularly the youths, into mainstream. I was then made Additional SP (Naxal Cell) in Etapalli and SP (Naxal Cell) in Gondia District wherein I worked with the same zeal in smashing Naxal activities. Of course, I had carried out some encounters to eliminate the terror in the supreme interest of peace in the region," asserted the DCP.
The young IPS officer's actions in Naxal-affected areas were well appreciated by people and police circles, too. And the proud moment in DCP Meena's young police career came when he was awarded the Director General's Insignia (a distinguishing badge or emblem which shows that a person is a member of a particular group or has a particular rank) in 2008-09. Thereafter, after a successful stint in rural areas, Chandra Kishore Meena was transferred to Nagpur as DCP Zone-4. In Nagpur too, he scripted a success story with aplomb.
"When I came to Nagpur as DCP, I prepared a well-planned strategy to rid the society of criminal activities with focus on analyzing the situation. A graph on hardcore criminals and their specific activities was part of the strategy. Target the crime without prejudice policy was adopted. I have developed a variety of different policing strategies, philosophies, and methods for dealing with crime. Often, different approaches to policing overlap because different groups come up with similar solutions to the same problems. These various approaches may be aimed at goals that include crime prevention, effective use of police resources, or suspect location. Rigorous analysis can determine which strategies are the most effective in various circumstances. This analysis has been successful in identifying strategies that reduce crime. Efforts also support the development of tools and technologies that aid policing, such as those to improve information sharing," said DCP Meena.
The outcome of DCP Meena's strategy could be gauged from the upper hand the IPS officer has over the situation. He has booked over 30 history-sheeters under the dreaded MCOCA (Maharashtra Control of Organized Crime Act) and has externed more than 20 criminals under MPDA Act (Maharashtra Prevention of Dangerous Activities Act). This action shows the heavy hand of the DCP and subsequently create terror among terror. But the tough police officer has human hand, too. The human hand to provide mental peace to law abiding citizens who sometimes become victims of criminals.
"People should approach police stations without any fear. If citizens, particularly the womenfolk, have any complaints then the police must know as without the proper communication we are helpless. In Maharashtra, police have provided Zero First Information Reports facility whereby citizens can lodge Zero First Information Reports (FIRs) at any police station irrespective of jurisdiction. This means women can file an FIR at any police station and the complaint is required to be registered on the basis of the woman's complaint verbatim, DCP Chandra Kishore Meena said. The DCP has given his cell phone number and email address to facilitate the citizens to file complaints directly to him. The mobile number is 7507911911 and email address is: dcpz4.ngp@gmail.com. The citizens can also file their complaints online at nagpurpolice.info.
"Now-a-days, street crimes like chain-snatching, crime against senior citizens are on the increase. There are two main reasons for this phenomenon. Firstly, the perpetrators of these crimes are increasingly well-educated youths and petty criminals. They commit these crimes to fulfill their lust for lavish living with easy money and easy targets. Secondly, these new faces of criminals make it very difficult for police to track them as they have no previous police record. So the crime happens regularly. However, police have increased patrolling, deployed Charlie squads to control the crime. Citizens should also remain alert and provide inputs to police if they notice any such activities of the criminals," asserted DCP Meena.
"House-breakings, burglaries at commercial hubs, offices in the city can be effectively curbed if the citizens, traders and other concerned establishments install good quality CCTV cameras at vantage points. CCTV cameras instill a fear among perpetrators of these crimes as they are caught red-handed while committing the crime. Police teams frequently visit senior citizens, arrange meetings to know their difficulties. But citizens should also be careful and inform police about any criminal activities being indulged in their areas," appealed the DCP.
"Similarly, people should raise their voice against gangsters, land mafia and other criminals who try to forcibly grab their properties. Although such cases are very difficult to be resolved as it takes lot of time to arrive at the real owners of the properties but citizens can at least lodge complaints with police without any fear," said the IPS officer.
"Another crime that is raising its ugly head is regarding objectionable content like obscene, lascivious pictures, video, message being circulated by miscreants by using social networking sites like Facebook, Orkut, YouTube and WhatsApp messenger on mobiles. I have appealed the citizens to remain alert and report to the nearest police station about such miscreants who indulge in circulating the objectionable content. The main aim is to curb such anti-social activities that tend to deprave and corrupt the persons who are likely to read, see or hear the same. The miscreants, in connivance with each other and other unknown persons are found circulating the objectionable content and thus promoting hatred or communal disharmony from their respective websites. Therefore, I have directed the policemen to take strict action if any complaint is lodged in this connection," said the DCP Meena.
Nagpur Today view about DCP Chandra Kishore Meena can be described in following words: "The DCP has seen many Winters but not celebrated Deepawali because he was out to see the dear citizens cherishing every moment of festivity in secure atmosphere. DCP Chandra Kishore Meena is well-known for his upright, straightforward and no-nonsense style of working. The fact that the crime graph is showing a decline and many hardcore criminals behind bars is a sharp pointer to the style of working of the DCP. He keeps a personal watch on the activities in six police stations under his belt and the crime situation, too. The high-ranking official minces no words in scolding the staff when needed and is no miser in praising them as well."
By Ravikant Kamble