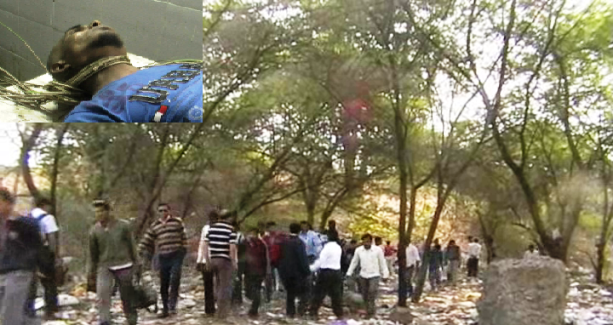 Nagpur News.
Sensation gripped Narendra Nagar area when body of a youth was found hanging from a tree early Friday morning in a deserted area near Narendra Nagar bridge. The deceased has been identified as Ekant Mohile (23), a resident of Samarth Nagar.
The morning walkers noticed the hanging body of Ekant early Friday morning and informed Pratap Nagar police. Cops reached the spot immediately after being informed. They performed panchanama and sent the body for autopsy. Cops have registered a case of accidental death but chances of suicide turning out into a murder case could not be ruled out.
Cops informed Ekant's family members who doubted the suicide and said that Ekant was not suffering from any tension or had any major problems in life to resort to suicide.  They said that it he was murder and his body was later hanged to the tree.
According to information, when Ekant left home on Thursday afternoon he had not shaved his head but the body found had a shaved head. In addition, his mobile phone and slippers were also missing from the scene. Thus, police have apprehensions that the case might turn into a murder enquiry.
Ekant's brother Sunil Gadpayle informed Nagpur Today that Ekant had no major problems in his life. But, he had a heated up argument with few goons from his locality who later attacked him with knives.
Police sources said that it was practically impossible to commit suicide on that tree as branched are just 4 ft from the ground level and branches of four trees were curled around Ekant's neck which was an impossible task for a person committing suicide.
At present, cops have registered an accidental case and only post mortem reports would confirm it as a murder investigation. Meanwhile cops have started the investigations.