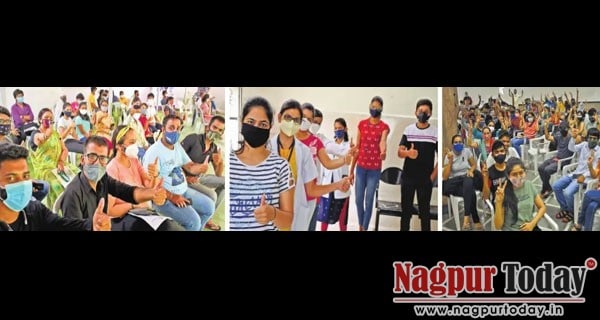 Nagpur: Showcasing the youth power, the Nagpur district on Wednesday created a record of sorts as a total 41,881 people got themselves vaccinated at various centres across the city and rural parts on a single day.
In the 106 centres of Nagpur city, a total 23,703 people were given Covid-19 jabs. The vaccinated include 20,261 in the 18 years plus age group. Similarly, at the centres in rural parts of the district, the vaccination figure reached 18,178 on the first day itself. The jabs were given in 53 Primary Health Centres, 10 Rural Hospitals and 2 Sub-District Hospitals. Together the total number adds up to 41,881, which is all -time high doses for a single day ever since inoculation started from the month of February in the district. The last time high in the district during vaccination drive during a single day was 16,451 and it was recorded on April 16, 2021.
In the city, nearly 100 vaccination centres are opened by NMC for the convenience of citizens and also to prevent overcrowding. Besides that some private hospitals have directly procured vaccines from the companies and on Wednesday they provided jabs to 1482 persons, as many Corporates have tied-up to get their staff vaccinated at the earliest. A multinational group is conducting vaccination at its campus in the MIHAN area for its employees and their family members.
Throughout Wednesday there was heavy rush, especially that of youths, at vaccination centres in the city as they visited in groups to get inoculated. Those in the 18-plus age group have been waiting for the vaccination to start on a full-fledged basis and on the first day they took full advantage as they are aware of the benefits and necessity to build antibodies. The talk of the third wave of Covid-19 has instilled fear and hence people are now inclined to get vaccinated, and for youth they know that since they are more mobile it's best to take the first dose at the earlier.
For the 18-plus group the wait for inoculation has been troubling as due to shortage the drive was suspended after starting it with much fanfare about a month back. Hence now post resumption of drive the youth made most of the opportunity. Apart from the youngsters, even elderly persons have also been quite prompt on taking their doses and many have completed their second jab as they too are in a vulnerable group.