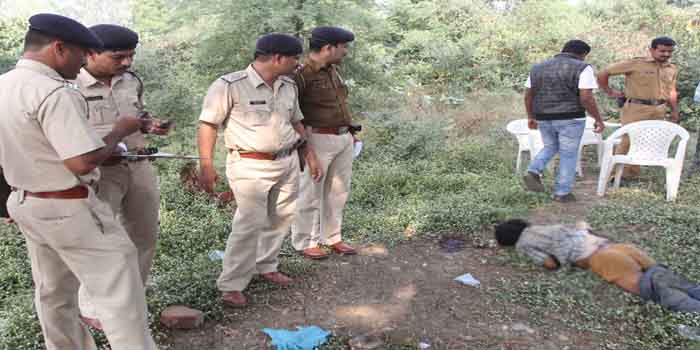 Nagpur News : Dhantoli police have recovered a blood soaked body of a youth lying under a tree in the premises of Women's Industrial Training Institute opposite Laxmi talkies. The bereaved, recognised as Gyaneshwar Ramdas Kumre, 25, resident of Zaripatka bore injury marks on his head and leg. Police seemed to be clueless regarding whereabouts of the murderer. The killing was suspected to be the outcome of the tiff over gambling money.
On the spot, playing cards were found scattered along with beer bottles. A bag was found hanging from the tree. It was evident that the place was also used to cook  food.
Assistant Commissioner of Police Chandrakishore Meena, ACP Gangaram Sakharkar and Dhantoli cop Maroti Shinde investigated the crime scene.
Sources informed that Gyaneshwar was cycle rickshaw puller in the area and often seen in the area along with his friend Kale. Police said that the institute's security guard Ramraj Singh Chauhan informed at police control room about the dead body in the premises, following which cops rushed the spot.
The body of Gyaneshwar was found to be lying flat on the ground and his head appeared to have been hit by some weighted object. One of his jaws was brutally crushed and mutilated
It was revealed that Gyaneshwar earlier lived in Chandni Nagar slums and later moved to Krishi Nagar, Nagarjun Colony in Zaripatka. Most of his companions reside in Bijli Nagar in Dhantoli where he often dropped in, to visit them. For the last couple of days, Gyaneshwar was reportedly staying under a tree behind ITI along with Kale, who runs a chaat cart. This is the same spot from where his dead body was recovered.
Police was still looking for the leads while the culprit was yet to be traced. Matter is being further investigated.