Yamraj, Chitragupt appear before traffic rule violators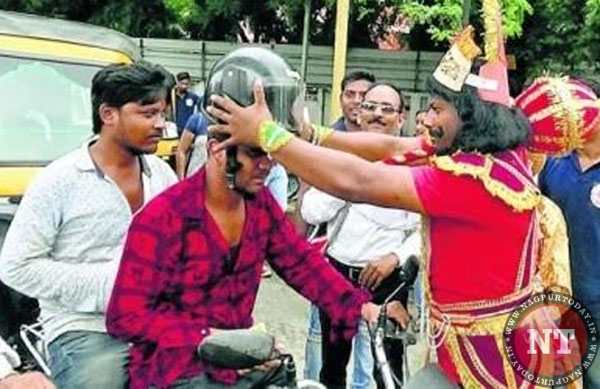 Nagpur : Nagpur residents were shocked when Yamraj and Chitragupt appeared suddenly in front of them on the city roads on Monday. People were surprised to see the duo and some were even frightened. However, the Yamraj and Chitragupt reached only those, who were not wearing helmets and seat-belts, and gave them doses on value of life and safety measures. They got assurance from people that they will not violate traffic rules and will care for their safety.
In a unique initiave, the Maha Metro deployed its two employees dressed as Yamraj and Chitragupt on North Ambazari Road to make people aware of traffic rules. The Yamraj and Chitragupt approached those stopping at the signal at Nagpur University Square and appealed to them to make it a habit to use helmets and seat-belts while driving. Students of Hadas High School were also taught the importance of traffic rules.
The Maha Metro has launched this initiative to curb road accidents on the city roads. The two employees have been deployed especially to make people aware about the use of helmets for two-wheeler riders, use of seat-belts for four-wheeler drivers, safe distance between vehicles, use of indicators, not using mobile phone while driving or riding vehicles and maintaining slow speed at places where Metro Rail work is going on.
Citizens were provided leaflets on traffic rules and a street play was also presented.