Yaariyan : The Kiss Quest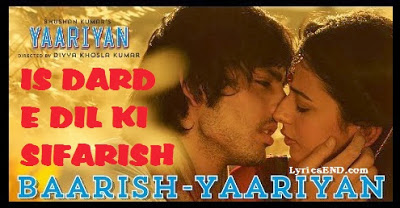 Youth is biggest consumer in India. Age of this nation is reducing day by day. A large number of youngsters are below 20. Also many in their teenage are forming major chunk of population. It is evident from the teenage crowd flocking to the theatres that there's a good market for teenage flicks if released professionally. With the muscle of T-series behind it, Yaariyan did succeed in creation of pre-release buzz for the movie. With the help of chart buster music, it is successful in getting its audience to the theatre.
A good movie needs great marketing to get the theatre seats filled initially but it is the content of the movie which keeps it filled for 1-2 weeks which actually helps in doing good business. It will be interesting to see if Yaariyan is able to achieve it over coming days because it has very less to offer and that to for a niche section i.e. teenagers. If this movie still does great business, then we can conclude that the teenage market is worth targeting (perhaps with better content) in future.
Yaariyan focuses on teenage "hormonal locha" which the makers think keeps them on the hunt for physical pleasures from the opposite sex. As the lead male character Lakshya (Himansh Kohli) is in quest for kissing his current girlfriend Jenny (Serah Singh), he and his group gets punished (?) to protect the college from being take over by the australians. Is it sounding as weird while reading as it is to me while writing? The principal of the collage, Jimmy sir (Gulshan Grover) gives even more absurd justification for his choice. So this group of good for nothings fight for the cause with multiple sources of motivation by mother (Smita Jaykar), Mausi (Deepti Naval), Friend Debu and girlfriend Saloni (Rakul Preet Singh) given time to time.
Credit for Story, Screenplay and Direction is given to Divya Khosla Kumar who is family member of the producers. It is her debut film. She seems inspired by multiple teenage flicks and tried to pull best out of them and put in this movie to create a cocktail which unfortunately fails in taste. She brings in instances from real life like australians beating Indian student and also tries to flavour the recipe with patriotism. While doing all this, it is also a coming of age story where the reluctant protagonist realises the importance of being man of substance. However, the movie fails to be so.
It is said that there are very less female directors in film industry. When a female director wields megaphone, we expect female characters treated with more dignity than their male counterparts. However, from the first scene to the last, Divya never misses a chance to show cleavages from top angle and bikini clad legs from low angle. Apart from 3 glamour girls, Jenny (Serah Singh), Jannet (Evelyn Sharma) and Jiya (Necole Faria) as students who do not leave a chance to shed cloths, there are 2 female teachers. They are shown as flirty in a cheap way, dropping their saree pallu in every frame. If that's supposed to be funny, I do not subscribe to that kind of humour. Sorry.
To give credit to Divya, the screenplay has few engaging moments, even if cliched or formulaic, at times it works. Also the film has difficult scenes like mounting biking, mountain climbing, etc which takes hard work in execution. So we can say it is a good debut by her as director. I doubt if we can expect any better from her in future.
Film is technically strong. It has a great cinematography by Sameer Arya. He shows Sikkim and Australia in its all natural beauty. Production value of the film is top notch. Editing by Parameswaran and Aarif Sheikh could have been better if they had made it more tighter and fluid. The biggest strong point on which this film relies is Music. Songs by Pritam, Mithoon, Yo Yo Honey Singh, Arko Pravo Mukherjee, are already busting the charts. With T-Series at the helm of the affairs, music has to be the best. And it is.
The film is a candy floss, coming of age, romantic musical in an imaginary college (in reality, it can't exist) which works with teenage audience.

Recommendation : Skip it unless you are a teenager with "hormonal loch"