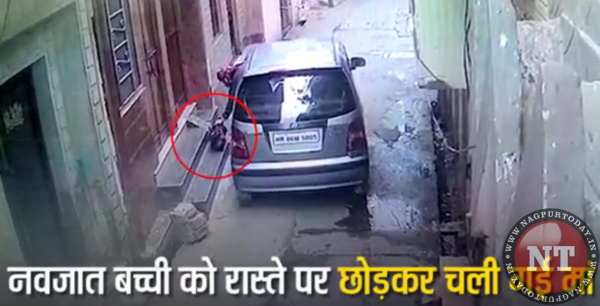 Muzaffarnagar (UP): In an outrageous incident, CCTV camera caught a woman dumping a newborn baby at a deserted lane from a car in which she was travelling in Muzaffarnagar of Uttar Pradesh. As the baby started crying, nearby residents came to know of the incident. They rushed to the baby to a hospital. The condition of the baby is stable.
The incident occurred in Mustafa Lane of Kotwali area on Wednesday. The footage of the CCTV camera shows the woman dumping the newborn baby at the doorsteps of a house and left in a car. The woman had covered her face with a scarf. It is suspected that the woman could have been mother of the baby.
In the CCTV camera footage, the car is seen as Centro and after investigations the registration number is found to be HR06/M 5005 in Panipat. The car is reportedly registered in the name of a Haryana officer named Rawal. Cops have launched in-depth investigations.