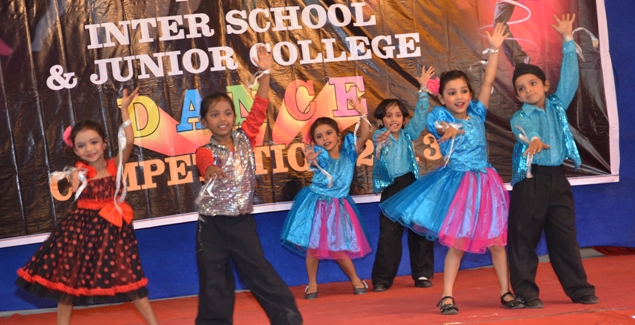 Nagpur Today.
YWCA Nagpur a social organization working for the upliftment of women and children through various projects like orphanage, old age home, special child, saving girl child, many projects and events which are exclusively women centred. YWCA Nagpur had organized a Fundraising Event through Inter-school & Junior College Dance Competition open for both girls and boys on October 12, 2013 at St. Ursula Girls High school ground. The dance competition where students right from 5 years to 16 years showed their dancing talents. Their dances were beautiful, smooth, elegant, wild, wonderful, amazing, fun-filled, graceful, perfect, flawless and supreme. There were 95 dances. They danced away to glory. What could be described only as synchronized and competitive at the same time.
The chief guests for the event were a prominent social worker Shashanka Naidu and the guest of honour a renowned personal designer & social worker Sumita Salve. The former president of the YWCA Parvati Joseph gave the introductory speech. Former Vice-President and the present President Lillian J. Makasare welcomed and felicitated the guests along with the present Vice President Rachna Singh.
The judges were Manish Patil, Alister Anthony, Lovina Roy, Victoria Simon and Vrushali Mohite.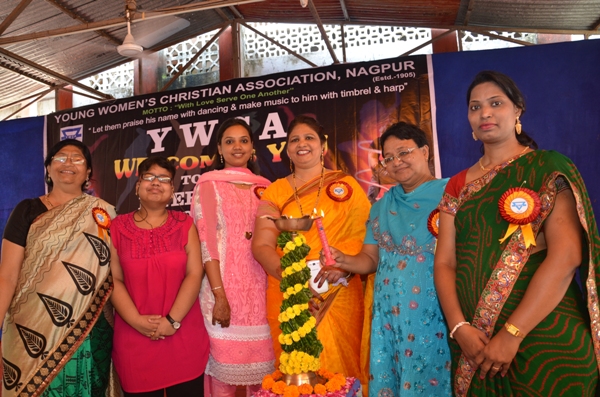 The Programme was anchored by Maudlin J Makasare and Sarah Sandiman.  Eminent personalities, many city elites, dignitaries, invitees, Board Members & YWCA members were present to witness the event. The Programme Committee Chairperson Modesty J Makasare proposed the vote of thanks. The Programme committee consisting of members of Sarah Sandiman, Modesty J Makasare, Maudlin J Makasare, Ashrita Bhelwa, & Amrita Malviya worked hard to make the programme a great success.
More than 100 Entries were received for the competition. The General Secretary Nancy Lokhande has successfully co-ordinated the programme under the able guidance of the former President Parvati Joseph, present president & former Vice-President Lillian J. Makasare and present Vice –President Rachna Singh.
The results of the competition are as follows:
1)      PRE-PRIMARY 
Solo – 1st Suyash Jain (Central India Public School)
2nd Prize – Mahim Khan( BCS)
2)      Pre Primary 
Duet   1st Bimal Gotra & Priyanshu Chakranarayan
2nd – Sankruti Shende & Sanskruti Mange   (St. Ursula)
3)      Pre-Primary 
Group   1st Ayesha Khan & Group (St. Vincent Palloti)
2nd Prize- Pratha & Group (Kunal Dance Academy)
II) PRIMARY
Solo – 1st Dhandhree Dwiwedi (Sandipani School)
2nd – Suhani Nankani    (Centre Point School)
Duet- 1st – Kritika Ramteke & Dhanshri Vinkhare (BCS  Primary School)
2nd – Smith Londe &  Ashutosh Bais (BCS Primary School)
Group – 1st Bhumi & Group (St. Ursula Primary School)
2nd Mayank & Group (Central India Public School.)
III) Middle & High
Solo – 1st – Manasi Sharma (Kurvey's New Model Public School)
2nd– Deveshri Ingle    (Tata Parsi)
Duet-   1st – Prachi & Shruti (St. Ursula Girls High School)
2nd Prize- Shruti Kalamkar & Mrunalini Shende (Mount Carmel)
Group  1st – Aniket & Group (Shri Guru Harkishan Public School)
2nd – Abhishek & Group (Sayona School)
IV) Junior College
Solo-   1st – Amit Thapliyal  (Gurunanak Institute)
2nd– Rashmi (J. N. Tata Parsi College)
DUET- 1st Kunal & Mayur (Prerna College)
2nd– Sherley & Shabrina (St. Ursula Junior College)
Group- 1st Tejal & Group (St. Ursula Girls Junior College)
2nd – Puneet & Group ( Bhavans B.P Vidya Mandir Junior College)