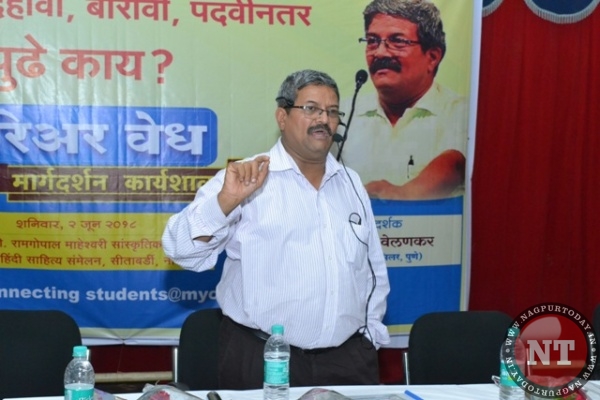 Nagpur: Every year lakhs of students achieve good marks in their respective Board exams but the most important question arises after that is what should one choose which would help them excel in life. To get rid of this dilemma, a career counseling programme was organised for students who recently passed 10th, 12th Board exams by My Career Club. The event was held at in Vidarbha Hindi Sahitya Sammelan Hall, Nagpur on Saturday. Vivek Velankar, a Career Counsellor, interacted and guided the students with various career options for successful future.
Velankar instructed the student that after exam they should write all the subject names on a sheet and divide the subjects on the basis of their interest and then choose in which particular subject one is good in. Only the students know in which particular subject they can perform really well and parents should support their children in their decision and should not impose their own opinion, decisions on them. He further said that "apart from engineering there are various other career options which have higher demand in various sectors like Law, Medical, BSc, Pharmacy, Civil Services and many more. It does not matter which stream you choose one has a wide range of options in front of them irrespective of any stream like science, commerce, arts to make a bright future. There are many diploma courses as well which will be helpful in making a bright career. Students should give various aptitude tests as they help them in knowing their capacity and their area of interest," the ace career counsellor asserted.
The event ended on a positive note with one to one interactive question answer session where students asked their queries and cleared their doubts.