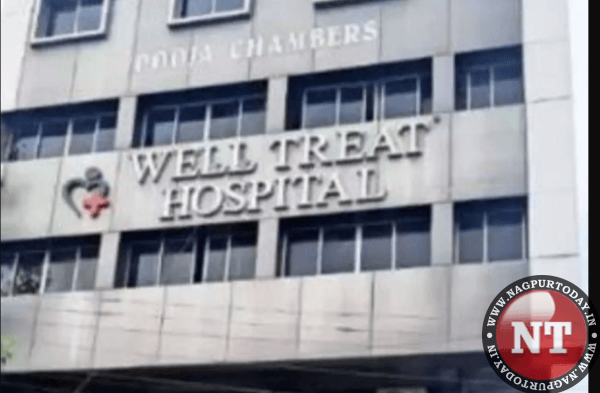 Nagpur: Wadi police have booked the Director of Well Treat Hospital Pravin Giripunje for trying to extort Rs 40 lakh from Vishal Khemchandani whose mother had rented two storeys to the accused to start the hospital at Adarsh Nagar in Wadi. The accused demanded the money for vacating the rented place, according to media reports.
A resident of Byramji Town, Sadar, Vishal Khemchandani (31) has lodged a complaint in this connection.
According to police, Vishal's mother Rajani owned offices at a building in Adarsh Nagar. The accused in the case, Pravin Giripunje and his partner Dr Rahul Thavre and four other directors had rented the offices on the second and third floor of the building in 2015. However, the accused stopped paying the rent since 2018. A case in this regard is also going in the court.
However, between March 18 and April 8 this year, the accused demanded Rs 40 lakh from Vishal for vacating the place. Vishal later approached Wadi police who registered a case of extortion against the accused duo.
It may be recalled that Wadi police had booked the Director of Well Treat Hospital Rahul Thavre for causing the death of four patients negligently as a fire had broken out in the hospital's ICU April 9 night in 2021.
The fire led to the death of four patients admitted in the ICU. The deceased were identified as Shivshakti Bhagwan Sonbhasre (35), resident of Godegaon, Parseoni, Tulshiram Sapkan Pardhi (47), a resident of Plot No 158, Gorewada Road, Nagpur; Prakash Baburao Bonde (69), a resident of Manish Nagar, Nagpur and Ranjana Madhukar Kadu (44), a resident of Dhapewada, Kalmeshwar tehsil.
During the probe, it came to the fore that the accused Director of Well Treat Hospital Rahul Thavre and the hospital administration had used inferior electrical tools and had also not deployed firefighting equipment at the hospital. Despite knowing that a fire would cause human fatalities and damage to property, the hospital administration indulged in utter negligence leading to the death of four patients.
Wadi police, based on a complaint lodged by Pravin Ramdas Mahant (37), resident of Sneha Nagar, Mouda, Nagpur, had booked the Director of the Hospital Rahul Thavre and others under Sections 304, 34 of the IPC.
Later the licence of Well Treat Multispeciality Hospital and Critical Care Centre, Wadi, was cancelled by Nagpur District Civil Surgeon (CS) after four patients were charred to death in a fire in the hospital on the night of April 9, 2021.