We should Give back to the society from whom we take so much – Adv R.P Tolani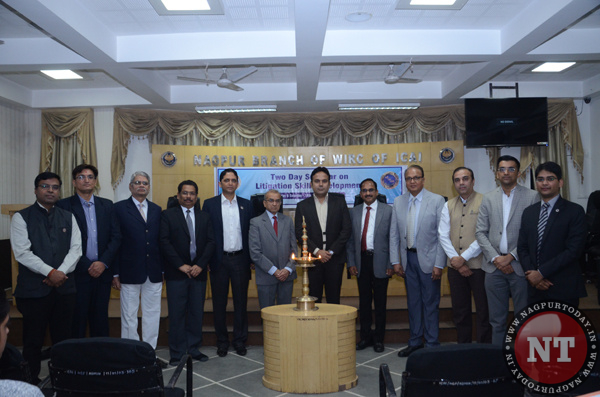 Nagpur: Litigation Practice is one the core area of practice for Chartered Accountants where they can contribute in an effective manner. It can be seen that there are very few practitioners who have taken this field as a core area. I always support and motivate new entrants to the profession to take this field as an area of specialization. We have taken so much from this society, it's our duty to give back so that the generations can take the advantage and this process of guiding should continue said Adv. R. P. Tolani, Vice President (Retd) ITAT. He was speaking as Chief Guest at the Litigation Skill Development Program organized by Nagpur Branch of ICAI. We can take education from any institute which can give us a degree but to be in practice we need something more than a degree for which we need lot of hard work and dedication. It is the duty of seniors to educate and guide the junior practitioners so that they can take the right path.
There are many Chartered Accountants turned lawyers who are practicing in an excellent manner in litigation and this is the motivation for many new entrants. Our Hon. Prime Minister is also emphasizing on skill development and there are various effective ways to develop these skills. We should learn the art of articulating as well as art of presentation. We should have faith in judiciary and should always be positive once we practice in this field. Appeal structure in Income Tax Appellant Tribunal is much easier than any other platform.
While appearing before Commissioner of Income Tax (Appeal) we should remember that it is an independent authority and they have the power to enhance your tax liability as well. Drafting ground of appeals, statement of facts and other documents is another important area which should be focused. Chartered Accountants can also contribute in SEBI, NCLT as well as CESTAT in valuable manner. With proper knowledge of law, with hard work along with the convincing power we can put the facts before the authority. We should also convince our clients about having faith in judiciary and with proper approach they can take the benefit of all the legal provisions.
CA. Abhijit Kelkar, Regional Council Member in his brief address complemented the Nagpur Branch for organizing this program for the benefit of the members and this will effectively guide the new entrants to the profession. Litigation Skills is one of the most important skills which we the practitioners should have and can be taken as the right area of practice.
CA. Sandeep Jotwani, Chairman of Nagpur Branch in his welcome address mentioned that this was a long pending project of Nagpur Branch to organize a program on Litigation Skill Development. In litigation, many members are not having the required information and also we commit many mistake out of ignorance for which this program is designed. With proper efforts and dedication this area can be one of the core areas of practice for the Chartered Accountants.
In this program Adv. R.P Tolani, CA. Rajesh Loya, Past Chairman Of Nagpur Branch, CA. Jayant Ranade, CA. S. G. Gandhi, CA. Abhay Agrawal and CA. S.B. Hajare explained the various important aspects on Litigation Skill Development. The program was followed by Mock Tribunal having Adv. R.P Tolani as Judicial Member and CA. P.K. Bansal, Vice President (Retd) ITAT as Accountant Member. In the Mock Tribunal CA. Mahavir Atal, CA. Abhay Agrawal, CA. Rajesh Loya, CA. Kapil Hirani, CA. Naresh Jakhotia, CA. Govind Batra and Adv. Manoj Moryani appeared before the ITAT as counsel and presented various practical cases for the understanding of members.
CA. Umang Agrawal, Vice Chairman of Nagpur Branch Co-ordinate the program whereas CA. Suren Duragkar, Secretary of Nagpur Branch proposed formal vote of thanks.
Prominently present on the occasion were CA. Kirit Kalyani, CA. Jiten Saglani, CA. Saket Bagdia, CA. Swapnil Ghate, CA. Manoj Soni, CA. Vinod Hassani, CA. Chandan Patel, CA. Hemant Dasture and members in large numbers.