VTA thanks CM Fadnavis for excellent public portal of 'Aaple Sarkar'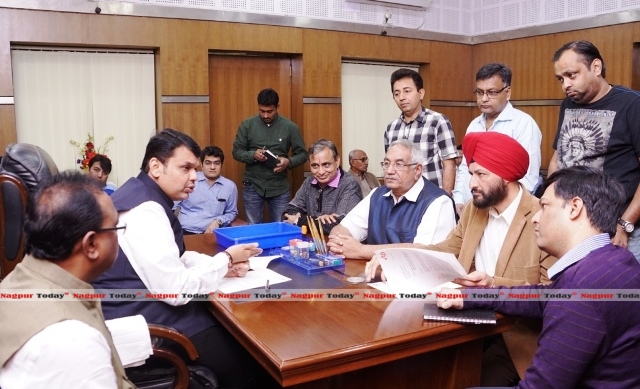 Nagpur: A delegation of Vidarbha Taxpayers Association (VTA) led by its president J. P. Sharma met Chief Minister Devendra Fadnavis and handed over flower bouquet and submitted sincere gratitude on behalf of citizens of Maharashtra for enforcing 'Right to Service', which is strongly backed & supported by amazing citizens' friendly portal – "Aaple Sarkar". Also present in the meeting were Guardian Minister Chandrashekhar Bawankule and city collector Sachin Kurve.
Sharma appreciated that this remarkable portal has brought many citizens related services of Revenue Department, Rural Development and Panchayat Raj Department, Labour Department, Water Resource Department, Directorate of Govt Printing & Stationary, Skill Development & Entrepreneurship Department, Forest Department and Department of Registrars and Stamps on finger tips as they being online, which is paperless application and it assures time bound delivery to the applicants.
Tejinder Singh Renu, secretary of VTA brought to the knowledge of CM that due to delay in sand ghats auctions the price of this natural commodity has increased almost double, which has resulted in sand theft causing considerable loss to the state exchequer daily.
Renu suggested that since sand is supplied to the region mainly from Nagpur & Bhandara Ghats and their period granted for mining in these districts is same, whereby entire region faces sand shortage, when mining lease expires. It is recommended that their period should be different, whereby some ghat is always supplying sand. Further auctioneers should be asked to upload details of royalty issued on daily/weekly basis on some dept website so that revenue loss doesn't occur due to duplicate royalties.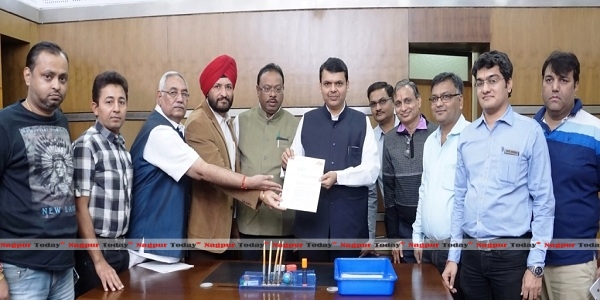 Tejinder Singh Renu also submitted that Hookah Parlours are mushrooming extremely fast and at present they do not come under any authority for sanction or license; many residents complain against its activities and police are helpless as they have no directions on this subject. It is recommended that appropriate policy on Hookah Parlours be issued so that they are either regulated properly.
VTA also requested CM that by charging onetime fee, which should be feasible to Nazul lease holders, their plots can be converted into Malik Makbuja, which is again part of 'ease of doing business' as most likely in comparison to revenue generated from Nazul rent, its administration expenditure must be far more.
CM Devendra Fadnavis said he is happy that people have liked Aaple Sarkar portal, however more the citizens use it, better we'll make by introducing further citizens related subjects. He also appreciated the suggestions of VTA on sand ghats and asked collector Sachin Kurve to seek details from his Bhandara collector and plan period accordingly. Further he assured that State Government is coming out with a policy on Hookah Parlours soon, he also informed that State Government has further set up a committee so that Nazul and other similar plots are converted into Malik Makbuja soon.
Also present in VTA delegation were VTA's vice president Shrawankumar Malu, Executive Body Members Rajesh Kanoongo, Saqib Parekh, Ashwin Agrawal, Hemant Sarda, Rohit Kanoongo and Hemant Sharma.