VTA suggest major amendments in NMRC regulations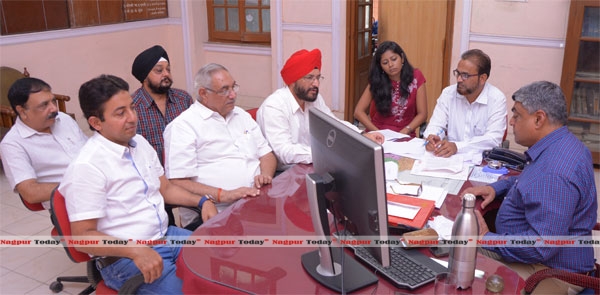 Nagpur: A delegation of Vidarbha Taxpayers Association (VTA) let by its president J. P. Sharma attended hearing called by N. S. Adhari, Joint Director Town Planning on proposed modifications vide Notification No. TPS-2414/477/CR-248/2014/UD-9 regarding addition of New Regulation along with appendix 'W' in Development Control Regulations (DCR) of Nagpur City in regards to Nagpur Metro Rail Corridor (NMRC) by Government of Maharashtra through its Urban Development Department (UDD).
Main purpose of NMRC is to have more tenements nearby
To generate funds from redevelopment of plots under NMRC
VTA suggestions in bullets –
Plot owners should have choice of utilizing NMRC or existing DCR for plot development
Corridor size should be 1000 mtrs instead of 500 proposed
Premium proposed for extra FSI should be 30% of market value
Provision of discretionary powers should be withdrawn
Impact assessment of project without any set rules not possible.
Tenement density and parking should more practical
Mandatory 6 mtr side margin clause needs to be revised
Parking, Balcony, etc should be free of FSI
Existing GRs contradicting NMRC regulations
J. P. Sharma submitted that VTA sincerely want successful Metro Rail in Nagpur and to avoid future revenue shortfalls due to unrealistic provisions we have submitted these suggestions in interest of citizens as well as of State Government, NMRC Limited and Nagpur Metro Project, because our study of the notification says that this good objective could fail drastically if appropriate amendments are not carried in final GR.
Tejinder Singh Renu secretary of VTA highlighted that around 95% of the plots falling under proposed NMRC are below 500 sq. mt. many of them even below 100 sq. mt. like in Itwari, Gandhibagh, back side of Central Avenue hence achieving revenue out of them will be almost impossible task; hence it is highly recommended that more plots are brought under this by expanding corridor size from proposed 500 mts to 1000 mts.
Tejinder Singh Renu also submitted that if option to landlord of either going with NMRC or existing DCR is not given then with present set of NMRC regulations it would be impossible for majority of plot holders to construct or redevelop, thereby instead of benefit as sought under NMRC to landlords and developers, it will turn out to be a penalty.
Renu further pointed out recently NMC has proposed extra FSI of 33% on additional premium @ 30% for residential which is pending for approval with state govt, hence with same logic the premium proposed under NMRC should also be 30% & not 40% of market value. Likewise table proposed of tenement density with minimum density requirements is unfeasible to obtain, thereby shall cause hindrance in true development of the region under NMRC. Similarly parking table lacks clarity, which will delay process of plan sanctioning later.
Renu also said that without any guidelines or rules carrying Impact Assessment and Integrated Mobility Plan of plots under NMRC will be arbitrary and would certainly mount as discretionary in the hands of Commissioner / Chairman to grant extra FSI. Similarly taking parking, balcony, passages, lobby, etc in built up and further binding minimum restrictions of marginal space of 6 mts will make almost 80% plots unworkable for development under the NMRC.
Renu also highlighted that existing GRs like handing over 20% of the built-up area for EWS/LIG housing (27.88 to 45 sq. mtrs.) in form of flats to MHADA and demand of double parking for commercial activities on 24 major roads (Kamptee Road, Bhandara Road, Hingna Road and Wardha Road) will cause hindrance in utilizing plots true potential as proposed in NMRC and clarity on this is highly recommended in final regulation so that no ambiguity or space for interpretation is left thereafter.
Renu also pointed out that another major hurdle will be user / zoning of the plots falling under NMRC, because many plot which are of bigger size in NMRC are falling under Industrial Zone for example in Lakadganj and Kamptee Road. Hence it is highly recommended that along with this proposal, zone change – converting all Industrial Plot to Residential use should be carried for early development in NMRC. Logically too, these areas are now surrounded by residential colonies, so under no circumstances industries should remain in city for reasons we already are aware of.
Joint Director Town Planning N. S. Adhari appreciated VTA's detailed research, submission of issues minutely and presentation of written notes of arguments along with hearing and assured that he'll cover all points in his report to the Government.
Also present in VTA delegation were joint secretary Hemant Trivedi, Saqib Parekh and Amarjeet Singh Chawla.