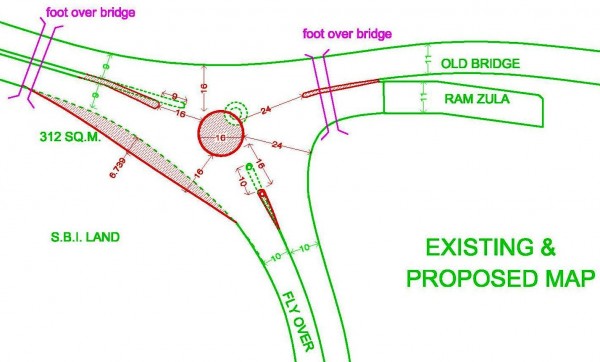 Nagpur News: Vidarbha Taxpayers Association (VTA) delegation led by its President J. P. Sharma met Mayor Prof. Anil Sole & Municipal Commissioner Shyam Wardhane and submitted memorandum as well as drawings of Jai Stambh Square prepared by Architect Rahul More; as VTA strongly believes that even after Six Lane Cable Stayed Bridge at Santra Market more commonly known as 'Ram Jhula' gets completed in time to come, congestion of Jai Stambh would still remain, if some serious planning isn't carried on time.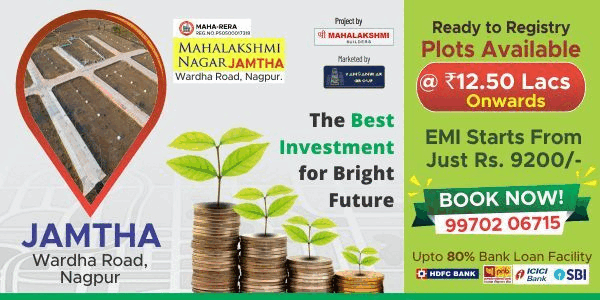 VTA took this issue on priority and after taking all aspects into consideration, VTA proposed that only option would be to increase the size of existing square with slight relocation, which enables easy flow of traffic like existing examples in city Medical College Square, Ram Nagar Square, Aathrasta Square and others were without signal heavy traffic with multiple roads connecting flows without difficulty just because it has adequate size of square in the middle.
Tejinder Singh Renu secretary VTA pointed out that typically there are limited options to reduce traffic on a square; either any one road can be made one-way, however this option is out of question as this square links East Nagpur with West Nagpur and there is hardly any other alternate road available to share the traffic load. Another option is to have a flyover so that any one side traffic flies over the square reducing traffic pressure of square, however since we already have Ram Jhula in incomplete and hanging position since almost last 9 years, suggesting flyover is ruled out, which also requires considerable capital investment.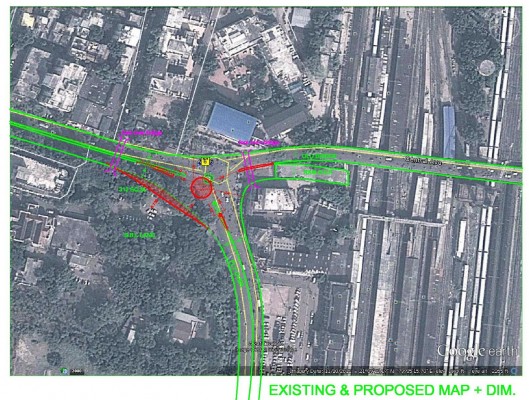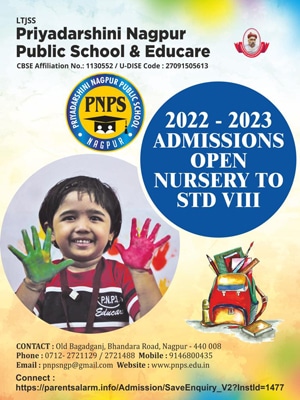 Existing Jai Stambh is 8 meters in diameter and VTA proposes it size to be increased to 16 meters with slight relocation, complete shifting of Jai Stambh to one side in place of octroi office would further create more chaos, as flat area without any square or dividers will be like Shyam Talkies square were traffic is always jammed just because we have no square in between and under no circumstances traffic signals be installed as two flyovers meet at this junction.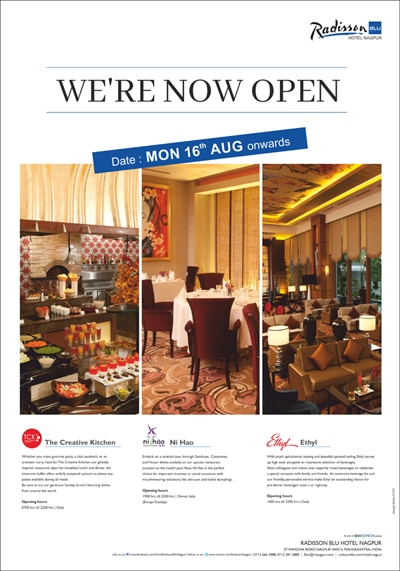 Likewise for pedestrian traffic 2 foot-overbridge is proposed as throughout pedestrians are seen crossing square blocking traffic especially between Railway Station and Railway Office, likewise in front SBI main branch. Similarly to avoid people going wrong side to avoid long route, VTA proposes that the right turn from Sitabuldi flyover towards Central Avenue would have open access which is presently closed.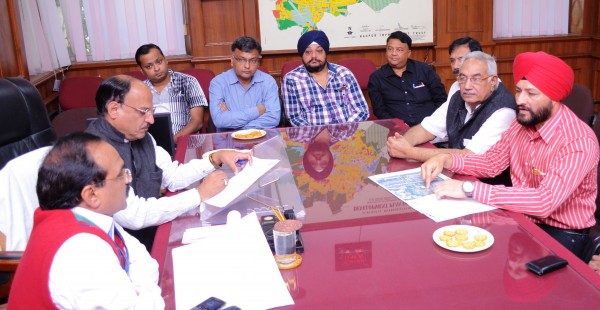 J. P. Sharma, President of VTA said VTA proposes that all sides of square open should be open so that traffic flows easily, moreover existing road has approx two lanes for traffic flow, which with proposed relocation of square would increase by one more. The road sides should have 5 or 4 feet high railing between footpath and road, so that the pedestrians actively use footpath only and does with such barrier, encroachers will find no space to illegally occupy public place and with increased square size, traffic will flow with comfort and thus existing encroachments seen on footpaths would automatically diminish.
Tejinder Singh Renu categorically asserted that this arrangement is not lifelong solution of the problem, however this would most likely take care for 5-6 years or more, as with current pace of increment is vehicular traffic, a flyover could only be a solution in future.
Renu said had Ram Jhula under construction planned taking care of future requirements, Ram Jhula bridge from Central Avenue side should have landed on Kingsway, which could have bypassed Jai Stambh reducing traffic on this square almost by 40% or more.
VTA requested NMC that before taking final decision on the subject, consultation of experts in NMC, NIT, Traffic and Urban Planning is most importantly required.
Both Mayor and Municipal Commissioner agreed that this issue surely requires consideration and after taking appropriate consultation a presentation would be arranged before finalizing the planning so that stakeholders also participate and submit their suggestions.
Members of VTA present in the meeting were Hemant Trivedi, Amarjeet Singh Chawla, Ashwin Agrawal, Rajesh Kanoongo and Govind Patel.