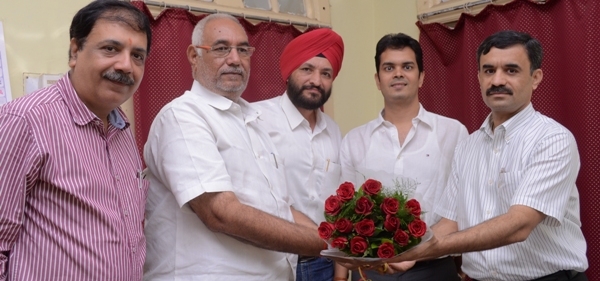 Nagpur News.
A delegation of Vidarbha Taxpayers Association (VTA) led by its president J. P. Sharma met Dr. Nitin Kareer, Sales Tax Commissioner and submitted memorandum on various issues requesting his kind attention and appropriate solution thereon. 
J. P. Sharma submitted before Commissioner that all VAT dealers are in other words tax collecting agents and on behalf of the Government dealers collect this indirect tax and deposit the same to the state exchequer. However still sales tax department has recently started prosecution proceedings against few dealers, although VTA does not support any dealer who has committed fraud or cheated the government, but any genuine dealer who has made purchased from such fraudulent dealer, should not be counted for prosecution and his passed track record should be considered by department.
Tejinder Singh Renu, secretary of VTA said that on 26.09.2013 Supreme Court has dismissed Civil Appeal No. 8672 of 2013 (Arising out of SLP(C) No.17741 of 2007) along with other Civil Appeals which means Maharashtra Government's move to levy VAT on under-construction flats bought between 20 June 2006, and 31 March 2010, has been declared legitimate. However, Order passed by Apex Court has directed Government of Maharashtra to bring clarity in Rule 58 (1-A), which may please be issued considering all the aspects relating to the same, as each case shall vary from others.
Renu said to expedite the recovery it is highly recommended that composite scheme with rate of maximum 1%, as applicable now may also be applied to this period on under construction flats bought between 20 June 2006 and 31 March 2010 as tax rate derived varies from building to building does creating complicity amongst flat purchasers and again leading to further litigations. 
Hemant Trivedi, joint secretary of VTA said that Income Tax Department through National Securities Depository Limited (NSDL) and now through TRACES facilitated a PAN holder excellent feature to view its Tax Credit Statement (Form 26AS) online, which contains details of tax deducted on behalf of the taxpayer by deductors, details of tax collected on behalf of the taxpayer by collectors. Similar facility should also be there in Sales Tax.
Executive Body Member of VTA Rohit Agrawal submitted that in last Finance Act, Union Finance Minister P. Chidambaram has proposed amnesty scheme for Service Tax, 'Voluntary Compliance Encouragement Scheme' where defaulter may avail the scheme on a condition that he files an affidavit on truth and declare his liability since 1.10.2007, whereby interest, penalty and consequences shall be waived, similar amnesty scheme may please be introduced in Sales Tax so that few dealers who want to come in the main stream are benefited and department too achieves its target.
After patient hearing Dr. Kareer agreed that department too is looking forward of composition scheme for buildings under construction between 2006 & 2010, likewise amnesty scheme is also under consideration. He said that fraudulent dealers would be dealt with steel hands and prosecution shall continue against them. He said the VAT website already displaces list of dealers who have not filed returns and soon payment details as seen in 26AS shall be available on sales tax website as well, hence dealers can keep a check on this list provided by department to avoid future complications.
Also present in the meeting were Additional Sales Tax Commissioner  G. B. Indurkar and Joint Sales Tax Commissioner Abhay Mahajan