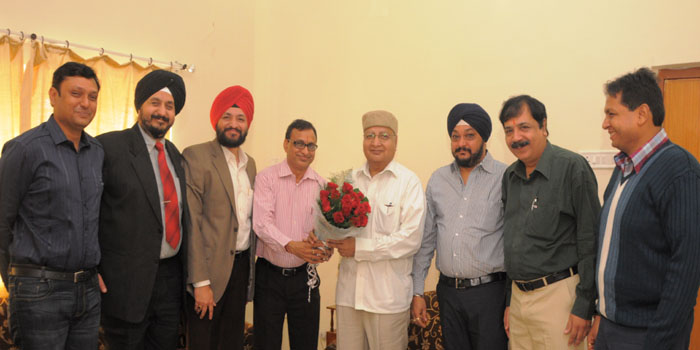 Nagpur News : A delegation of Vidarbha Taxpayers Association (VTA) led by its Vice President Shrawan Kumar Malu met Minister for Food & Drug Administration Manohar Naik and submitted memorandum highlighting various provisions of Food Safety & Standards Act, 2006 (FSS Act) being implemented in State through Food and Drug Department (FDA), which is severely threatening closure of existing Food Businesses and also resulting in drastic rise of corruption.
Shrawan Kumar Malu submitted before FDA Minister that this Act is literally threatening of closing down practically all old Food Business Operators (FBO) in the State as many provisions in the Regulations are practically impossible to comply with and has also given unprecedented powers to the Food Inspectors leading to Inspector Raj.
Tejinder Singh Renu, secretary of VTA requested FDA Minister that time extended by FSSAI as prescribed in 2.1.2 – License for food business of Food Safety and Standards (Licensing and Registration of Food Businesses) Regulation 2011 by 6 months would drastically prove insufficient and as such State Government should demand further extension.
Renu also submitted that the said Act is being enforced retrospectively, as FDA is demanding affidavit from existing FBOs along with application for registration under the Act, to comply with all provisions of Schedule IV within one year of taking registration under FSS Act, wherein many provisions are impossible to comply as such leading to litigation.
VTA in its memorandum specifically mentioned that they are not against the laws or provisions for safety of people, who may be get affected by unsafe food or adulteration, but the system adopted to cover one & all, small to big, that too overnight may surely boost corruption. Such implementation of Act should have been imposed slowly and gradually in a developing country like ours.
Agreeing to the various issue raised, FDA Minister specifically mentioned that State Government shall surely write to FSSAI as well as Union Government for appropriate amendments so that such ambiguity is resolved without harming livelihood of the people engaged in food business.
Others present in the VTA delegation were Pawan Chopra – Treasurer, Joint Secretaries Hemant Trivedi and Praveen M. Agrawal, executive body members Amarjeet Singh Chawla and Yogi Singh.