Nagpur.
A drive to Vrindavan township from Nagpur is so indicative of everything the city, specially MIHAN has to offer – and also a sad realization of how far we still have to go to realize our potential. Vrindavan as it stands now, is like a green oasis in the still deserted MIHAN landscape that has beautiful, smooth roads – that hopefully will soon lead somewhere!
"Yes, we are the fastest built and fasted sold township of Central India yet still lack in achieving planned targets. Where the target was 100, we are at 15 or 20… yet we shall go ahead full steam. There is no stopping us now" says Hardik Agrawal, CEO and Director of Vrindavan,  probably the youngest tycoon to look out for at age 21! Actually, Hardik was being modest because they have sold 1200 of 2200 units already.
The 111 acre township project was not something his father, Rajesh Agarwal, handed him on a platter – but it was a vision young Hardik had and was working on from the age of 17. It was to implement this that he did not mind forsaking the dream of going abroad for his college education and chose to do BBA from Nagpur itself. (He did go for summer courses to London School of Economics though and has done part of his high school in Dubai).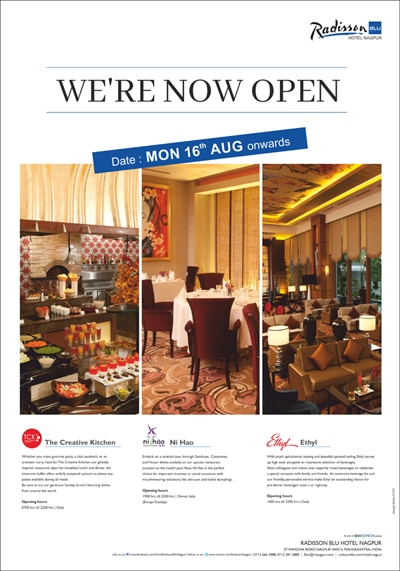 Branching off into Real estate and becoming a builder/ developer was not a family business at all. The family was into trading of iron and steel for some time.
To tell the story from the beginning, Hardik's grandfather Navranglal  Agrawal, came to Nagpur from a Haryana village 55 years ago. They were a family of farmers and traders and saw no future in their native village – there were some cousins settled in Nagpur already and Central India beckoned Navranglal too. He began with a Hardware store called ' Haryana Hardware' on Central avenue. Then Hardik's father, Rajesh diversified into steel products. Becoming a builder – and that too on such a large scale – was a quantum jump the family decided to make and all the joint family stood behind Hardik like a rock.
They first of all acquired the large 100 acre+ parcel of land adjacent to Jamtha stadium and close to MIHAN and launched Vrindavan 111 acre township in 2014. Plan was to build on 50 acres first which was to include, apart from multiple choice of houses, to a school, a hospital, even a mall etc.
Just two years later work is progressing as per schedule and what must be one of the fastest built residential properties 14 families have already taken possession and are living in Vrindavan now! Other structures like the temple, the swimming pool and landscaped gardens are also ready. As one drives in, one is struck by the attention paid to greenery everywhere. It's not the just the designated garden areas that are green, there are beautifully landscaped dividers on the roads too! The architects for the project are   Mamta & Sushil Sanghi though they have had specialists from Ahmedabad for landscaping design.
So what is bringing people to Vrindavan? Who are your customers? I ask Hardik.
"It was a combination of affordability, the serene environment though not too far from the city, and the world class amenities we were offering " says Hardik. Many of the buyers hail from nearby towns of Amraoti, Yawatmal, Chandrapur etc. who want a foothold and their own space in Nagpur for the future of their children's education and some are urbanites now settled in  Western Maharashtra who want a safe and secure housing for their old parents who prefer living in Nagpur.
Prospective buyers also saw the speed with which Vrindavan schemes were progressing and could gauge from it the sincerity of the builders. So confident are the investors and buyers alike that properties that were initially booked at just 9 lakhs plus have already appreciated to almost Rs. 20 lakhs market value.
The Agrawals are a rare breed among Nagpur builders who categorically and clearly mention pricing of their properties upfront. There is no 60: 40; 30:70 ratios at all! All transactions are by cheque.
They are also delivering what they promised. The school building, which will be a CBSE school is already under construction. The idea of the hospital has been dropped since a number of world class hospitals are coming up just outside Vrindavan, including the National Cancer Institute and AIIMS so adequate medical facilities will be available.
A mall is being contemplated which will have a unique design, probably inspired by Dubai malls. There will be a high rise building of super luxury apartments right next to the mall.
A number of shops have already been built – and sold too! A super shoppe is operational already.
But what inspires total confidence is that, as the model shows, right in the middle of the 50 acres is a 7 bedroom bunglow that is going to be occupied by Hardik and his family as soon as it is built.
"I did not dream of Vrindavan as a place I would build and sell for profit only – I also wanted it to be a place, a house, a community where I and my family could live" says Hardik.
Another reason the 111 acre township caught people's imagination was how it was marketed and sold. The colourful Peacock as their logo for instance. When Vrindavan came up a very attractive digital synage was put up at the busy Bhole petrol pump which later was copied elsewhere too. This part of the marketing was handled very adeptly by Bhanu Rajgopal through his company Metaphors. Bhanu is a brand and creative consultant and his inputs in creating brand 'Vrindavan' were invaluable. There were no desperate schemes, commissions and middle men/ touts involved.
In fact, some of the houses became successful beyond imagination – like the 4 bedroom independent bunglows. They sold out so fast that more had to be planned. (But there are options for those looking out for one bedroom apartments too.)
Many competitors, even some relatives have tried to defame this fastest growing township but all allegations, say the Agrawals are false and frivolous and not to be believed.
I, as a 'liberal journalist' could not help asking as a parting shot – " why give religious overtones to housing which is a basic need of all? With names like Vrindavan, Vasudev and Rukmani are you hinting that these are only for Hindus? Can 'others' aspire to live here too?
(This question was actually inspired by all the examples we hear in metros like Mumbai and states like Gujarat where there is 'Jain housing' and non veg eating Muslims and others are strictly excluded.)
"No such reservations at all " says Hardik. "I have given names based on my religion and what appealed to me to convey serenity but we are democratic and extremely secular. Many Muslim families have already purchased properties in Vrindavan and tomorrow if they want to build a masjid we will have no objection! We will also not dictate what people should cook and eat inside their homes – that is their personal matter, their choice altogether! And you can quote me on this".
….Sunita Mudaliar