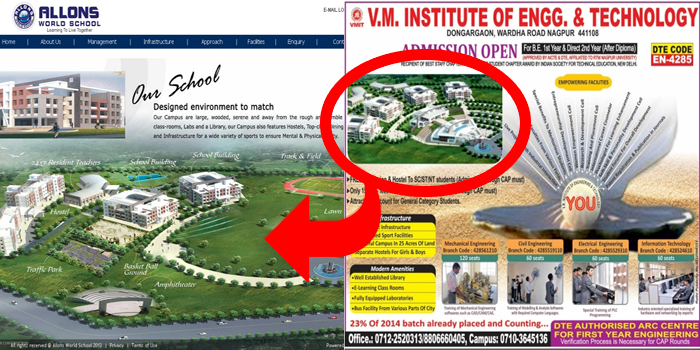 Nagpur News.
At a time when RSTM Nagpur University has banned admissions in over 300 Engineering and Management institutes found flouting norms, another institute has been caught defaulting on its infrastructure. An advertisement of this institute which ran in a daily English newspaper in Nagpur allegedly showed false representations of its building, thus misguiding the students into faulty claims about its infrastructure.
The half page advertisement of V.M. Institute of Engineering & Technology (VMIET) published prominently on Friday carried the picture showing sprawling expanse of buildings and amenities giving the students and parents an impression that these could be the campus properties. On the contrary, similar picture is being used as infrastructural presentation for Allons World School at Dongargaon. The picture shown on Allons School website on http://allonsworldschool.com/Infrastructure.php is the same that was used in the advertisement for VMIET.
Sources informed that both the school and colleges are being run in the same premises but major part of it is used for running school and not the college. Taking advantage of the situation, the college administration along with the school authorities cannily used the picture of entire premises for the promotion of both the school as well as the institute.
This has caused a great deal of confusion among the students who are often carried away by seeing such a lavish panorama of infrastructure which is actually not for their full utilization.
Sajeet Kumar of Allons World School told Nagpur Today that he did not deem necessary to come up with clarification in this regard. When asked why same infrastructure visual is being used for promotion of both school and college despite the fact that both are not the one, he said, "Whatever is shown in the VMIET ad is the real infrastructure and there is nothing wrongly represented."
However, Sajeet Kumar failed to explain the query about showing similar picture for both the entities. "I may not like to clarify in this regard", he said and hanged up.
Sources informed that in the current rush of admissions, the institute wanted to grab maximum students to its kitty by showing such an advertisement with the infrastructure of Allons World School.
It is learnt that the actual owners of the premises who started with the college had parted its property with the school owing to the less number of admissions during previous years. This year, though the institute is trying hard to attract students it may have least chance of drawing the favors out of the faulty advertisement.