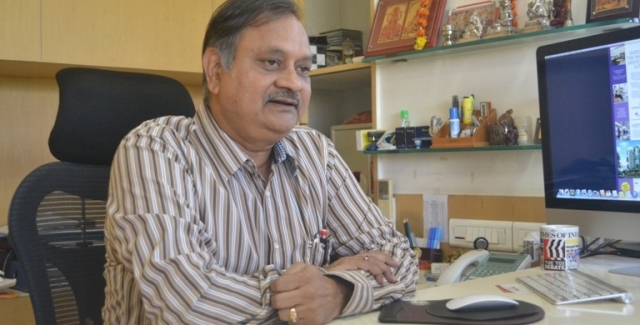 A simple yet dignified gentleman Virendra Khare, started his career in architectural designing, planning erection of buildings and never looked behind.  Born into a family involved in Fabrication having its unit in Gokulpeth called Khare Workshop. They were involved in power plant and coal industry.
When he graduated with B.Arch from VRCE (presently known as VNIT) in 1978, he found that Architecture did not have much scope in Nagpur.
He joined his family business, who was then involved in power-plant erection, completion and commissioning. The power company in the city was then called Nagpur Electrical Light and Power Limited (NEPL). He worked in the family business for 4 years.
He then undertook 2 major projects as a builder. He made Residential-cum-commercial complex  Aradhana Tower and Khare Chambers on their family plot.
Undertaking the project taught him a lot. According to Khare, it was an education. He learnt : How to keep the costs under control, How to manage quantity and quality. He was managing 250 people who taught him Men-management as well as buyer / customer management.
He then left his family business and started his own practice under the name of
V K Associates in 1982. He undertook various projects of State & Central Government. Interior Decoration and Industrial projects.
Some of major ones he said worth mentioning were Shree Fuels in Bangalore, Hiravala Estate in Jaipur, Abdul at Bhopal, Gupta Coal in Umred, Indo-Unique Flame for Motilal Agrawal etc.
In 1988-1992 he was appointed Consultant of CMPDI. He was giving Turnkey Management Consultancy/ Technical Drawing, Erection, Completion and Commissioning of the plant.
Other major projects that he undertook in the city display his masterwork.
Some of them worth mentioning are IT Park in South Ambazari Road, Landmark Building on Wardha Road, Pyramid Showroom at WHC Road, Madhu Madhav Complex etc.
For 4 years from 1996 to 2000, he was the President of Kayastha Samaj.
In 2007, he won the 1st prize in the Design Competition of Satyam Computers. He bagged the contract of Rs 1200 crores for erecting their building at MIHAN.
He also designed the Main Administration Building for NMC Corporation.
He is the resident Architect at Metro Park Ensara.
He designed Radison Hotel, He is the resident Architect of Tata Realities called Capitol Heights. He is also coming with a commercial cum residential complex called with Enrico Heights on Wardha Road.
In 2009 he was awarded to undertake a 540 crores project for Slum Rehabilitation Authority (SRA).
In 2007, an organization called Destiny awarded him with Man of the year award.
He was a visiting faculty and gave lectures at Priyadarshini College.
For 4 years (between 2002-2006), He was the Founder and Chairman of Indian Institute of Interior Designers, Nagpur Chapter.
The latest project he is passionately working on as a Promoter, Project Management Consultant and Stakeholder of a project coming up on 53 Acres. The construction of which is said to be on 25 lakhs square feet. This is going to be a Green City. (A city within a city) called Urbane Woods. He claimed that they are going to ensure zero-discharge and intend to recycle everything.
He is a happy family man. His entire family is directly or indirectly associated with his business. His wife is an Interior Designer. He is blessed with two daughters. The elder one is an Architect who specialized in Urban Designing. She is married to another Architect. The younger one is an MBA graduate with Finance as specialization. She is actively taking care of daddy's financial dealings. 
…Samuel Gunashekharan