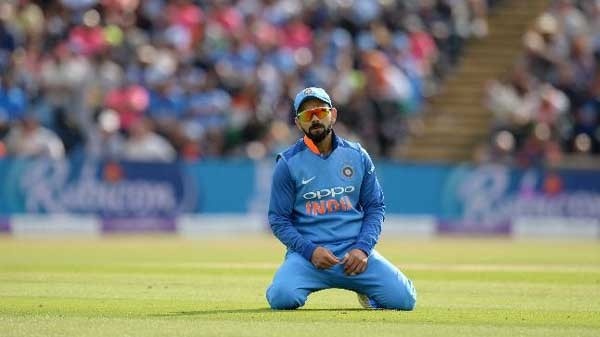 Virat Kohli suffered only his 12th ODI loss as India captain as England won the third and final ODI at Headingley by 8 wickets to clinch the three-match series 2-1 on Tuesday.
Virat Kohli's team put in a disappointing performance in the series-decider as the players faltered in all three departments in the game which mattered the most to miss out on a chance to register its 10th successive ODI series win.
Chasing a below-par score of 257 for victory, England rode on an unbeaten hundred from Joe Root and 88 not out from captain Eoin Morgan to reach the target with 33 balls to spare.
"We were never up to the mark as far as runs were concerned. We had 25-30 runs too little. England were clinical in all departments and throughly deserved to win. We need to be at our best against a team like England.
"The bowlers did well, especially their spinners who didn't get greedy and contained the runs before getting wickets eventually. We thought Dinesh did well, but he couldn't convert his start, so I don't regret the batting order changes," Virat Kohli said at the post-match presentation.
India were looking at this series as an opportunity to get the balance of its playing XI right ahead of the 50-over World Cup which will be played in England next year.
The team made three changes to their lineup in this match with Bhuvneshwar Kumar, Shardul Thakur and Dinesh Karthik getting a game in place of Umesh Yadav, Siddharth Kaul and KL Rahul.
The changes didn't really work for the Indian team but captain Virat Kohli still didn't have any regrets over the failed changes.
"Shardul was meant to get some exposure, and Bhuvi needed to make a comeback. When the changes don't come off, they look unnecessary so it must be taken in our stride. These kind of games will tell us what we need to improve upon for the World Cup.
"We need to have a good balance in the side, and we need to get our act right before the World Cup. We can't rely on one skill, and we need to do well in all departments," Virat Kohli said.
For India, Shardul Thakur was the lone bowler who managed to take a wicket.
With this loss India's nine-ODI series winning streak came to an end. It was also England's first ODI bilateral series win over India since 2011.
READ – Kohli stares in disbelief after falling to Adil Rashid's leg-spin
The Indian team will look to move on from this loss as they have a gruelling five-match Test series coming up against England starting next month.
"The Test squad is pretty settled, and it's going to be a lengthy series. We want to play tough cricket and we know the English side will provide us with that," Kohli said.
The Indian captain concluded the interview by praising England leg-spinner Adil Rashid, who bowled a peach of a delivery to snare Kohli's wicket and turn the tide in the home team's favour.
"I've been playing against Rashid since U-19 and it was a terrific ball, so it's just one of those balls that you have to take in your stride and say "Wow". I'm surprised that his turn has reduced over the years, but this one was an amazing ball," Kohli said.