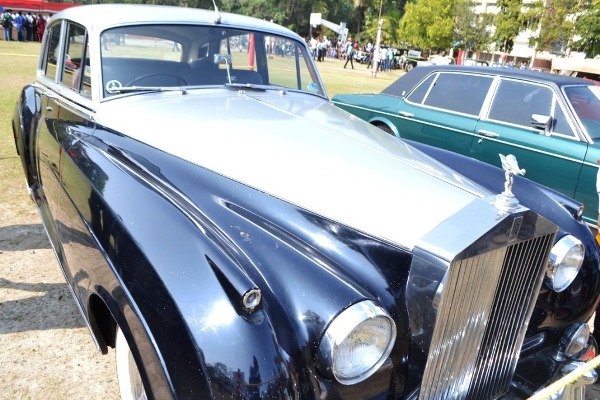 Nagpur News.
All those who have fuelled passion for the cars got the treat for their eyes when they happened to see the finest makes and models of yesteryears. The vintage cars, SUVs and bikes drove the onlookers crazy as they landed at Dharampeth Science college at Ambazari where the exhibition specially dedicated to the vintage cars started on Saturday.
Hordes of mesmerizing models from the then top car makers were put up on display that caught the fancy of automobile lovers in the city.
The event is organized by 'Cent Ind Vintage Automotive Association Nagpur' (CIVAA) and is called Centre Point School Carnival, 2014.
This is perhaps for the first time that such a huge quantum of vintage cars from hi-end and top brands like Rolls Royce, Chevrolet, Volkswagen were displayed across the vast area.
Some of jeeps and bikes at the do dates back to World War-I era.
Not only from the city, but this one of its kind car exhibition is drawing curious people from neighbouring districts too.
Shahrukh Cassad, Vice President, CIVAA informed that this is their second such event in the city and they were trying to make this event an annual feature in Nagpur calendar. "People can come, see and appreciate vintage and classic cars and bikes. It is to encourage owners to maintain their vehicle or bikes in good running condition and retain their ownership. The depleting numbers is one thing that made us hold this event," he told Nagpur Today.
Cassad informed that there are around 40 cars and 45 two-wheelers, including motorcycles and scooters, on display. Very old models of Lambretta and Vespa brands of scooters can be seen here, he said.
He informed that the oldest car in the exhibition Thrysler, a model from Thrysler Motocorp dates back to 1924. This car has been specially brought from Mumbai for this show. Another car – Ford Model A dates back to 1929. Besides Nagpur, cars have also been brought from Mumbai, Delhi and Kolkata.
The event ends on January 26. Last year it was conducted only for one day on Republic Day but this year it has been put on for two days. Entry is free for all.
Nagpur Today takes you to the journey of these yesteryears' speeding machines. Let's go…