Aware Nagpur citizens are very concerned and perturbed about a 'new road' that is on the anvil to substitute for the Futala road that will be closed for 'redevelopment and beautification' for a period of one year.
Aren't we suffering enough from the simultaneous construction of cement roads, metro and flyovers that have destroyed the city's landscape for some years now, that a new – and unnecessary road is being planned? Ask Nagpurians.
As any Nagpur Doctor will confirm, respiratory track illness has risen alarmingly due to all the dust and cement flying in the air with such hectic construction EVERYWHERE.
Fatal and severely injurious road accidents are being witnessed everyday because of the traffic and pot holed roads. Remember the death of 3 girls just a few months ago?
Where is this 'new road' being planned?
This road will be built from Bharat Nagar square on Amraoti road to Hanuman Mandir road at the base of Seminary Hills. It will mainly go through PKV land, and already over one hectare of woody land has been acquired for this purpose according to sources.
Is this road really necessary?
As Dr. Jaydeep Das, honourary Wild life warden and Livelihood expert connected to Forest Department opines in his application protesting this road "no consideration has been given to the already existing vide and ample alternate routes which will facilitate free and convenient move of vehicles from the proposed site. Thus, cutting down 500 trees is committing murder of already depleting green cover of city."
Assuming the Futala road is used by Air force personnel living in Vayusena Nagar, and students who have schools and colleges on Seminary Hills, they already have the option of the road that is next to WCL H.Q building and W.H.C road. For the Vayu Sena people and residents of Hazari Pahad there is the Katol road and Dhaba road also.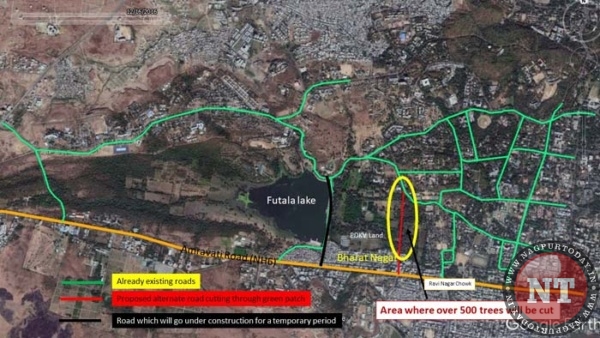 What toll will it take?
Apart from creating more disturbance and air pollution, Das estimates that 500 full grown trees, many of them over 50 years old will be cut down to build the road – and it is needed ( if at all) for just one year!
"This will be a permanent loss of green cover which is home to many birds and small animals; no number of newly planted trees somewhere on the outskirts of the city will make up for this loss of trees in a heavily populated, central area of the city."
When trees are cut how do we calculate the damage? Do we remember that one tree produces Oxygen for 10 – 12 persons each day?
" There is no logical rational used when trees are cut down" stresses Proff. Nishi Mukherjee, an Economics expert who has devoted his life to preserving wild life of Central India.
"They use calculations like ' we will get so many crores for wood, so many vehicles will ply, petrol will be saved etc. etc. pretending that there is no economic value to the trees themselves. This is what they did when they killed 35,000 trees while t building the 4 lane Mansar to Khawasa highway.
They put no economic value to the live tree, just the wood obtained from it. NPV – net present value, they call it. But what about calculating the value of the Oxygen each tree gives out. Remember, a live tree is not just trunk and branches, it has millions of leaves, and each leaf is an Oxygen producing factory! Today, we have to buy industrially produced O2 at Rs. 4000/ per Kg. A mature leafy tree produces as much oxygen in a season as 10 people inhale in a year. A 100-ft tree, 18″ diameter at its base, produces 6,000 pounds/ 3000 Kgs of oxygen. Assuming the trees had an average of 50 years more of life, just calculate the financial value of 35000 * 3000 *50. It would show a mind boggling loss!!
And it was not as if there was no alternate road. There already existed the parallel highway through Chindwara, which was not taken into account."
"Trees provide free Oxygen, if it has to be purchased daily, even 90% of populace could not afford it".
If all of us had to survive on bought Oxygen, like people in polluted metros like Delhi have to do, we would have to shell out Rs. 700/ for just 3 days. For a life time that would be an outlay of crores of Rupees. If we have to put a worth to it, each tree gives out Rs. 5 crores of Oxygen, apart from other benefits like giving shade, conserving soil, providing home to birds and ensuring rain fall.
Who has planned this road, and who will build it?
This road was planned in an old DP sources say. Today it is the PWD and NIT that want this 'alternate road' built since the proposed tunnel road at Futala will not " accomodate heavy traffic".
But the execution is being given to, who else? Nagpur Metro!!!
What does Nagpur Metro say about it?
Nagpur Today spoke to Dr. Brijesh Dixit and many other metro officials about it.
"We have no role to play in the planning or feasibility or research. We just have to execute." They all said.
But as one Director pointed out " it pains us to cut trees. Whenever possible we see how to save them. Thus while constructing the Pune Metro, we replanted 150 mature trees. Their survival rate was 95%." Which means that at least 7 trees still perished.
They say, if the Bharat Nagar road is built and some trees need to be cut down, they will replant these also. They also point out that the figure of 500 is "imaginary".
Could this be the hidden agenda?
We all know that elections are round the corner; and elections needs money. Lots of it.
Also, the present Ruling Party seems to think that going on building roads impresses people. Within a few months they will not be able to announce new projects due to the code of conduct. So make hay while the sun shines seems to be the 'policy'.
But let's remember this: "There can be no 'development' without a safe and healthy environment. It is time we factored in Environment as an Asset." Opines Dr. Mukherjee.
"We teach to children in Kindergarten that they should save and plant trees. But by example, we show just the opposite! " Says Jaydeep.
( Jaydeep Das has written a detailed letter regarding this 'unnecessary road' to the Mayor Nanda Jichkar, Metro M.D. Brijesh Dixit and PKV, Vice Chancellor Dr. Bhale on 7th November. A PIL has also been filed in the High Court by some concerned citizens. The outcome is awaited.)
… Sunita Mudaliar, Executive Editor