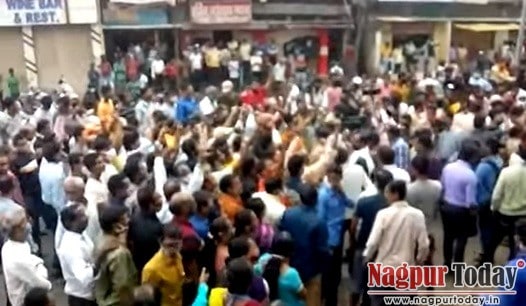 Nagpur: Tension prevailed Ganga Jamuna area on Sunday, after some locals and Commercial Sex Workers (CSW) engaged in a tiff over removal of red-light area from the vicinity. This was barely after 24-hours when Nagpur Police initiated dialogue with sex workers in notorious Ganga-Jamuna area for their rehabilitation on Saturday.
It is pertinent to mention that notorious Ganga Jamuna area was after sealed on August 11.
On Saturday, Nagpur Police led by Additional Commissioner of Police (Addl) Navinchandra Reddy , Deputy Commissioner of Police (DCP) Lohit Matani conducted a meeting of sex workers and encouraged them to join other work.
It may be mentioned that the police had imposed Section 144 of the Code of Criminal Procedure in the area on August 11 after which movement of people was restricted. Layers of barricades were laid out at both ends of 12 lanes of the area. Also, a posse of 100 police personnel is on round the clock for bandobast.
Many sex workers have already left the area after the police action. Those who are living in the area are either house-owners or elderly women. The house-owners were charging Rs 300 to Rs 500 per day from the sex workers. Their business was wrapped up due to the barricading by the police.