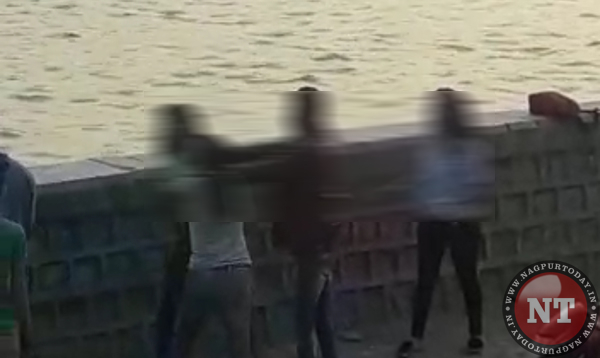 Nagpur: A video grab of two girls dealing fists and blows to each other, as one of them thrashed a bike rider whom she was apparently accompanying, has been doing rounds on social media and whatsapp chats. The video is reportedly shot on February 7, 2019 at Telangkhedi aka Futala lake where the entire episode took place.
In the video, a girl is seen hitting a bike rider with chappal. Later the girl accompanying him jumped to deal with the girl and then a fist fight picked up between the two girls who pulled each other's hairs, hurled abuses and dealt blows to each other. The entire scene caught the attention of visitors who candidly enjoyed the scene instead of intervening in the fight. However, few jumped to dispel the tension among them.
The spot falls under Gittikhadan police station as the incident took place at the lake's premises alongside Vayusena Nagar.
Sources infomed that Nagpur police control room received a call on February 7 at around 5 pm. It was reported that few young girls are engaged in fist fight at the lake pavement. The control room alerted Ambazari police who further passed the information to Gittikhadan police as this area of lake pavement falls under the latter's jurisdiction. Later the parents of the boy and the girls were summoned and the matter was put to cool. However, the incident has created a lot of buzz in the area.
The lake premises has been fast gaining notoriety in terms of rage among youths who create lot of nuisance to the visitors. The youths are often seen conversing in vulgar language. It turned out that this incident was also the fallout of such acts. When two girls reportedly objected to a group of boys and girls talking aloud in offensive manner, it led to heated exchange followed by the physical fight.
Nagpur Today has muted the video here as it contains abuses. The video has also been blurred so that identity of the youths could be protected.