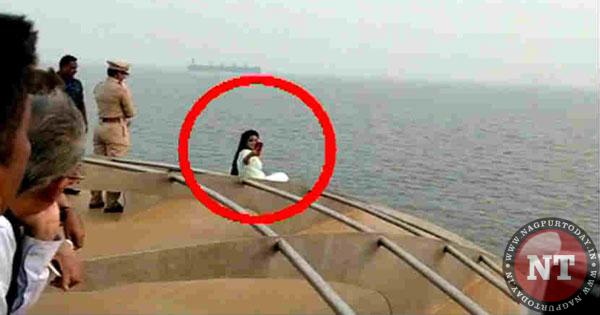 It was a historic day for India as country's first luxury cruise, Angriya was inaugurated on Saturday. The coastal cruise ship will sail off on its maiden voyage – from Mumbai to Goa on October 24, 2018. Maharashtra Chief Minister Devendra Fadnavis and Union Minister Nitin Gadkari flagged off the cruise ship.
However, it was Maha CM's wife Amruta Fadnavis who came under media spotlight at the inauguration ceremony — for not all the right reasons. Amruta, a banker, singer and social activist also happens to be an avid selfie lover, and it was clearly evident as she went an extra mile (no pun intended) to take a risky selfie! Angriya Cruise, Set to Sail From Mumbai to Goa, Inaugurated by Nitin Gadkari, Devendra Fadnavis:
Several videos from the Angriya inauguration ceremony are going viral on social media with Amruta Fadnavis being the hot topic of discussion. These clips show the 39-year-old near the edge of the cruise in an attempt to take a perfect selfie! In fact, Amruta crossed the safety barricades paying no heed to the repeated warnings by the security personnel.
Earlier on Saturday, Angriya was inaugurated by Devendra Fadnavis and Nitin Gadkari, the Minister for Road Transport & Highways, Shipping and Water Resources, River Development & Ganga Rejuvenation. It was a landmark day in the history of the maximum city as few lucky people got a chance to see Angriya that will begin its first trip on October 24 from Mumbai port at 4 pm IST. It will cover its journey and reach its destination, Goa by 9 am IST the next day.
Angriya is named after Maratha Navy Admiran Kanhoji Angre who protected Indian coast from enemy invasion. The 133 m long luxury coastal cruise can accommodate 350 passengers with its ticket prices ranging between Rs 7,500 to Rs 11,000. Angriya cruise has seven decks and 70 crew members on board.
Coming back to Amruta Fadnavis' eyebrow-raising selfie moment from the inauguration ceremony, we hope everyone on board does not imitate it as it can be quite dangerous. India has had the highest number of selfie-related deaths according to new research Me, Myself and My Killfie: Characterizing and Preventing Selfie Deaths, a collaborative study by researchers from Carnegie Mellon University and Indraprastha Institute of Information Delhi! Better be safe than sorry!