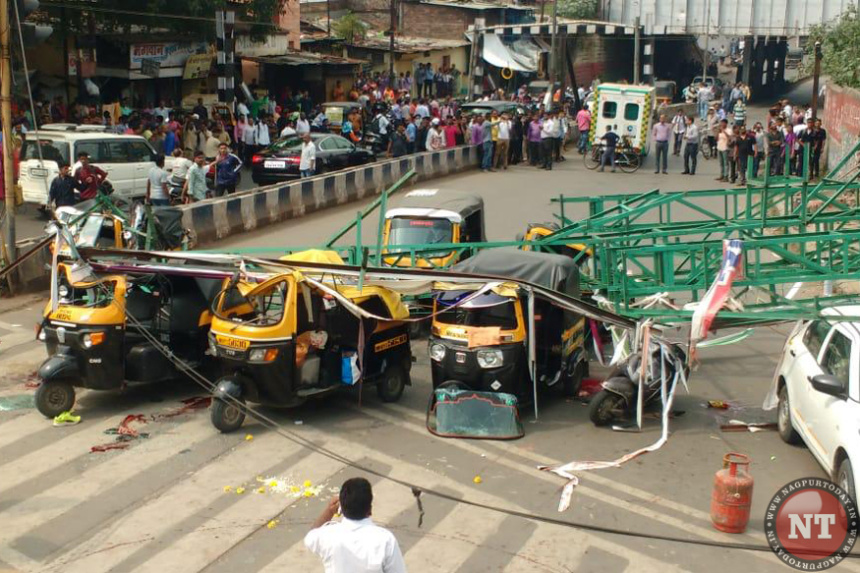 Three people were killed and at least six others injured after a huge hoarding along with its iron frame collapsed on some vehicles in Pune, Maharashtra on Friday, police said.
The incident took place when the 40-feet-high hoarding, mounted on an iron frame, was being dismantled, a senior police officer said.
The hoarding was installed in the premises of Central Railways along the road at Shahir Amar Shaikh Chowk in Mangalwar Peth area in the heart of the city.
"The hoarding was being dismantled at around 2 pm by a contractor of the Railways. However, while dismantling it, the metal structure fell on the road side.
"There were some auto-rickshaws, two-wheelers and four wheelers at (a nearby traffic) signal when the huge structure collapsed on them," said B Singh, Deputy Commissioner of Police (Zone I).
He said three people were killed and six others sustained serious injuries.
The deceased were identified as Shamrao Kasar, 70, Shamrao Dhotre, 48, and Shivaji Pardeshi, 40.
He said the police were investigating what exactly happened as there seems to have some 'negligence' while dismantling the structure.
"An FIR will be registered under relevant sections of the IPC," said Singh.
Another police officer said it seems adequate safety measures were not taken while dismantling the structure.
According to fire brigade officials, five auto- rickshaws, one moped and one four-wheeler were damaged.
All the injured were rushed to the nearby government- run Sassoon General Hospital, they said.
"Since it was afternoon, there was not much traffic on the road. Had there been a huge traffic flow, there would have been more casualties," said a local resident.
After the incident, the road traffic near the mishap site was disrupted. Meanwhile, despite repeated attempts, Railways officials were not available for comment on the mishap