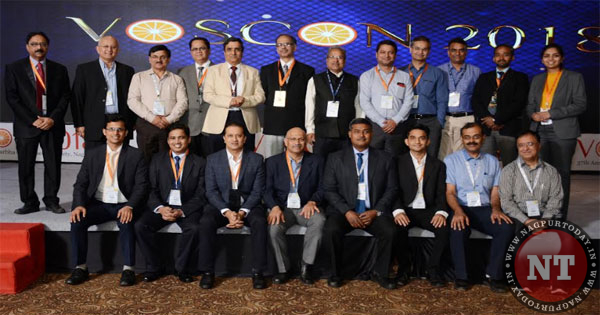 Vidarbha Orthopaedic Society, (VOS) had successfully organized its 37th Annual Conference "VOSCON2018" from 26th to 28th Oct. 2018 at Hotel Centre Point Ramdaspeth, Nagpur. This year the theme of the conference was "Imbibe, Interact Ignite" (Imbibe the Knowledge, Interact with Masters and Ignite, the passion to excel) The Conference
mainly focused on more interaction with Faculties and discussing issues with the stalwarts.
High lights of the conference were Renowned National Faculty, Master Class by Experts, More Interactive Sessions Hands-on Workshop and opportunity to meet the Masters of the craft.
Prominent faculties who descended from nook and corner of the country included Dr. D.D. Tanna, Mumbai, Dr. Ramesh Sen, Chandigarh, Dr. Rajiv Chatterjee, Kolkata, Dr. C.p. Das Cuttak, Dr. Parag Mushi, Mumbai, Dr. Harpal Sethi Ludhiana, Dr. Chetan Pradhan, Pune, Dr. Rajiv Roy Chaudhary, Surat, Dr. Sunil Shahane, Mumbai, Dr. Nimish Patel, Ahmedabad & Dr. Velu Chennai.
The conference commenced with One-day Preconference AO Trauma Introductory Workshop for beginners & Post Graduates students on 26th Oct. 2018 At the end of this course participants would be able to:
Discuss the concepts of stability, their influence on bone healing, and how to apply implants to achieve appropriate stability Apply reduction techniques in fracture management with attention to the importance of the soft-tissue Treat diaphyseal and simple (peri)articular fractures using different application techniques
Plan the initial treatment of the polytraumatized patient Faculty for the workshop were Dr. Sushrut Babhulkar, Dr. Nitin Kimmatkar, Dr. Aashutosh Apte, Dr. Yogesh Salphale, Dr. Devashis Barick, Dr. Manoj Pahukar, Dr. Amol Patil, Dr. Tushar Bhure, & Dr.
Amol Kadu. There were be free papers, Poster Presentation, Quiz,
besides talks by invited faculties.
Two days full day compact programme covered various technical aspects of the management of Bone diseases, fractures, trauma. Dr. Sudhir Soni was the Patron. Dr. Ashutosh Apte was Org. Chairman, while Dr. Amol Kadu was Org. Secretary. Dr. Ravi Dashputra President VOS and Dr. Sumedh Chaudhary Hon. Secretary, and Scientific
Committee
Chair:- Dr. Devashis Barick Dr. Nirbhay Karandikar Dr. Vikram Sapre Dr. Naved Ahmed
Paper/Poster Committee
Chair:- Dr. V. K. Verma, Dr. Prashant Parate, Dr. Ninad Godghate ,Dr. Amit Nemade & entire organizing team toiled hard for the smooth conduction and successful outcome of the conference. Trade and Industrial Exhibition
showcased the latest technological advances in Orthopaedic surgery.
Reported by Dr. Sudhir Mangrulkar, for TEAM VOSCON2018.