Vidarbha not magnetic enough to attract investments??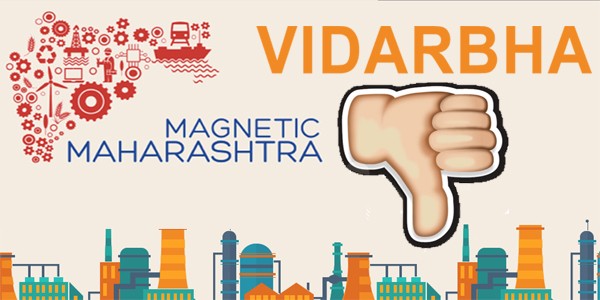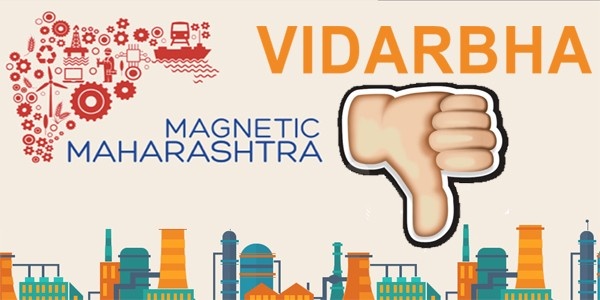 Nagpur: Yesterday we saw the valedictory function of 'Magnetic Maharashtra' which had unfolded on Sunday with much fanfare with the august presence of the PM himself.
Maharashtra signed 4,106 memorandums of understanding (MoUs) involving an investment of more than Rs12.10 trillion during the three-day Magnetic Maharashtra global investors summit, chief minister Devendra Fadnavis announced at the valedictory press conference of the business conclave on Tuesday at BKC ( Bandra Kurla Complex) in Mumbai.
That is a mind boggling figure; most readers will not even know how many zeroes are in a trillion ( just like me!) So I googled it and came up with this fact:
1 Trillion = 1 lakh crore INR = 1,000,000,000,000
So our state is slated to get investments of over Rs. 12 lakh crores?? How heartening! ( Investments in the state made two years ago at the Make In India meet was a meagre Rs 8 lakh crore.
But what is going to be the share of Vidarbha?
Fadnavis also said employment generation would be 36.77 lakhs. The Government of India and the Maharashtra government signed 104 proposals that would bring an investment of Rs 3.9 lakh crore to the state, he said.
Vidarbha occupies 31.6% of the total area of Maharashtra and holds 21.3% of the total population of the state. Vidarbha is easily the larger part of the state having two administrative divisions of Nagpur and Amravati which have eleven districts between them. So, if not a lion's share, Vidarbha and Nagpur as its 'capital' should have received at least 30% of the investments, that is 3 lakh crores or 3 Trillion,right??
Very disappointing, even heart breaking to say – Wrong!
Precisely two MOUs have been specifically signed for the state that will – hopefully – bring investments of less than Rs. 2000/ crores and employment to a few thousand people! So while whole of Maharashtra is slated to get almost 37 lakh jobs, Nagpur has to be satisfied with 2 to 3 thousand only??
As per the various media report of 21st February
'Devendra Fadnavis, Chief Minister, told mediapersons that the investors signed several MoUs for investment in industrially backward Marathwada, Vidarbha, and North Maharashtra.
Anand Mahindra, Chairman of Mahindra Group, also announced during the summit that Tech Mahindra will invest Rs 125 crore to create an all-green Tech Hub in Nagpur. The hub is expected to create at least 2,500 jobs.
An important MoU was signed by Dr Harshdeep Kamble, Development Commissioner (Industries); Lt Gen (retd) Ravindra Thodge of Vidarbha Defence Industrial Hub Private Limited; and Sushil Kumar of Tata Technologies Limited. Devendra Fadnavis, Chief Minister, also was present on the occasion. The MoU was signed to promote Maharashtra as aerospace and defence manufacturing and export hub by setting up 'Nirman' common facilitation centre for aerospace and defence.
As per the press release issued by the office of Chandrashekhar Bawankule, Energy Minister and Guardian Minister of Nagpur district, Energy Department and Giriraj Renewables Private Limited signed an MoU regarding floating solar panel project worth Rs 2,100 crore in Nagpur. Maharashtra State Power Generation Company Limited (Mahagenco) also signed an MoU for an investment of Rs 5,200 crore in 800 MW thermal power project in Umred tehsil of Nagpur district.'
If one reads between the lines the only big ticket investment that is guaranteed to come to Vidarbha is the Rs. 5200 crores earmarked for the 800 MW thermal power station in Umred taluka of Nagpur district.
Imagine the coal that will need to be mined for this – also in Vidarbha! Environmentalists are already concerned about the fast pace at which we are losing our forest cover to new mines and the heavy air pollution we have in 'Thermal power station' towns like Chandrapur and Nagpur. Such mega projects will definitely make matters worse. And for what?
Power that will mostly be transported to the over industrialized areas of Mumbai, Pune, Nasik etc.???
We in Vidarbha will only have the 'privilege' of sharing in the transmission costs and losses and thus pay more for our own power for which we already pay a heavy cost by way of damages!
UDAAN – the only silver lining
In this over all gloomy scenario of Vidarbha the only promise right now seems to be the UDAAN project envisaged to create technical man power for the Aerospace and Defense hub ancillary units that have the potential to come up once the Nagpur MRO gets an expansion and more Defense industries come up in the area.
UDAAN specifically plans on training 50,000 youth – from 8th standard drop outs to polytechnic students – for jobs in these industries.
Credit for putting in their heart and soul into getting the Defense enclave to Nagpur goes to Gen (retd) Ravindra Thodge, and Dushyant Deshpande who have been pursuing the development of this important sector since some time now.
In a seminar they held in Nagpur last year where they brought giants from the Aviation and Defense to meet Nagpur industrialists and Engineering College professors, it was clearly underlined that Nagpur had a huge potential for these sectors but for two impediments:
Lack of trained and experienced personnel to operate the high precision and sophisticated machinery that is used in these industries; and:
The high 18% slab of GST that will be charged in the state.
(There was already word that the Telengana state was trying to entice these sectors to their state promising little or nil tax.)
Finally, the CM has promised a total waiver of the Maharashtra state component of the GST, which is a huge benefit says Dushyant while talking to NT.
This project, when it materializes will definitely boost employment and bring some much needed investment to MIHAN and Vidarbha.
But, the matter of the fact is this has been in the pipeline and being planned by the endeavour of these two men mentioned above; it would have come irrespective of whether the Meet of Magnetic Maharashtra was held or not!
So what did M.M. bring really to our beleaguered districts of Vidarbha where farmers are in a hopeless situation and youth are frustrated due to heavy unemployment?
As a young industrialist who was in Mumbai for Magnetic Maharashtra opined on the sidelines of the enclave to NT
"it was a good enclave, but it was all about Mumbai mostly!"
Compare this with mega projects going to Mumbai – Pune region
The really big and key investments are that of Reliance Industries Limited for Rs 60,000 crore and the Virgin Hyperloop One for Rs 40,000 crore for high-speed train network between Mumbai and Pune. Thrust Aircraft Cluster will invest Rs 35,000 crore in Palghar, JWS Electrical Vehicle Ltd will invest Rs 6000 crore, Hyosung (Spandex Unit) (AURIC) Rs 1,250 crore in Aurangabad and Mahindra Electrical Vehicles and EV Component Rs 500 crore.
With such mega projects running into 40,000 crores and 60,000 crores have gone to Western Maharashtra, 'backward regions' have been given sops like projects of a few hundred to 20 – 25 crores.
As the CM said himself – "While Marath-wada stands to gain the most, investments will give a major facelift to the backward regions of Vidarbha, parts of north and western Maharashtra and Konkan," he added. Lloyd Metal and Energy Pvt Ltd agreed to invest Rs 700 crore in the Maoist violence-affected district of Gadchiroli, while the tribal district of Nandurbar attracted investments worth Rs 700 crore from Genus Paper and Boards Limited, Fadnavis said. In Nanded, among the emerging growth centres, India Agro Anaj Ltd has invested Rs 200 crore. In Hingoli, Rs 125 crore would be invested by Shiur Agro Limited. Fadnavis said: "Hingoli had been dismissed as the non-industrial district in the Economic Survey. Through Magnetic Maharashtra, a new beginning has been made which we pledge to consolidate in the successive years through bigger investments and development."
But how many MOUs are actually realized?
The strike rate for the state in the past has been 60% opined the CM while replying to a query on the success rate of MOUs translating to action.
With the amount of MOUs signed going up so radically, we would be lucky if the strike rate is even 50% this time around.
Often, the main beneficiaries of the proposed industries fall through the cracks in 'translation' between promise and action.
Remember Amravati and Akola were promised a revival of Textile mills to boost Cotton farmers?
Well, some mills did come up – "but they were dealing with polyester yarn" as per the finding of Ashish Deshmukh, MLA, who has been in the forefront of Vidarbha movement.
—Sunita Mudaliar (Executive Editor)