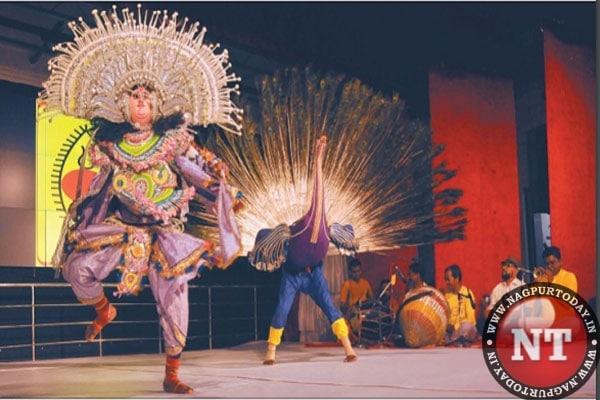 Nagpur: The third day of the 8th International Convention organized by SPIC MACAY (Society for the Promotion of Indian Classical Music and Culture Amongst Youth) at VNIT witnessed a captivating showcase of India's rich cultural heritage through a series of vibrant performances.
The audience was treated to the spellbinding artistry of the 'Gombeyaata' puppet show, the mesmerizing 'Purulia Chhau' dance form, and the soul-stirring 'Kabir Gayan' renditions. This report aims to provide an overview of these performances that showcased the diversity and artistry of Indian traditions.
The festival commenced with a vibrant performance of 'Gombeyatta', a form of puppetry from Karnataka, presented by renowned folk artist Bhaskar Kogga Kamath and his troupe. While performing 'Lanka Dahan',this storytelling folk drama brought the characters of the Ramayana to life through the skilful manoeuvre of wooden puppets. Kamath and his co-actors masterfully narrated and expressed the epic tale, captivating the audience with scenes such as Hanuman's visit to Sita at Ashok Vatika and 'Lanka Dahan'.
An enthralled audience responded with 'Jai Shri Ram' when Hanuman set Ravan's Lanka afire. The skilful performance took the audience back to the mythical era of Lord Ram. After the performance, Kamath told the audience that he used the three sticks for the performance of puppets which symbolise Brahma, Vishnu,and Mahesh.
The festival continued with Tarapada Rajak, a celebrated gem of West Bengal and Odisha folk art, showcasing the vibrant 'Puruliya Chhau' dance. The troupe in ancient costumes and clay masks, mesmerised the audience with their flawless choreography and enthralling performances. The audience gave thunderous applause on 'Mayurbhanj Dance', 'God Demon War', and the portrayal of the Brahma-Vishnu-Mahesh during the performance.
The audience was enthralled by the entry of 'Durga Mata's lion'. The 'Mahishasura Vadh' further enthralled the spectators. Soon after, the artists in lion costumes brought laughter and joy to the young audience with its various performances.
In yet another enchanting display, Padmashri Prahlad Singh Tipania and his troupe mesmerised the audience with their soulful performance of 'Kabir Bhajans' in the folk style of 'Malvi' from Madhya Pradesh. Just before the performance, Tipania narrated the importance of 'Kabir's Dohe'. He also explained the importance of 'Guru' in the life who illuminates the life path of his disciple. He emphasized the significance of the spiritual guide in one's life. Their performance highlighted the rich musical culture of the region and conveyed profound social and spiritual messages.
"Ek Gurumurti',"Ek Guru Ki Wani Atpati", "Guru Sharan Me Rahna Re Bandhu", "Gurubina Mile Na Moksha" and "Jagat Magat Ke Bich Re," gave a mesmerizing experience to the audience. The artists were welcomed and felicitated by Pungcholam Guru Kriti Singh, VNIT Professor Dr. Arghya Mitra, Sunanda Reddy, and Prerna Srimali.