Vendetta, vicious, opportunistic: Tejashwi explains mahagathbandhan divorce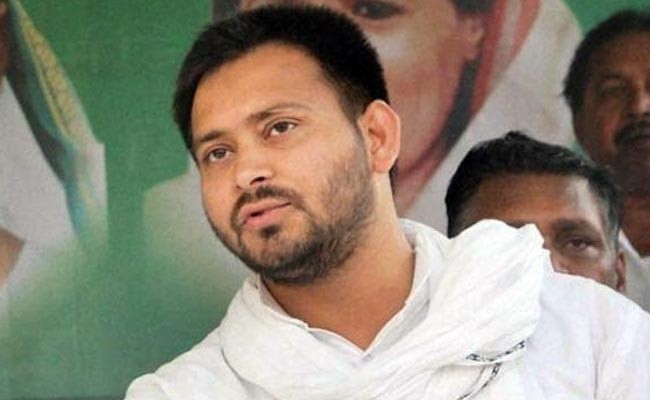 Patna: Rashtriya Janata Dal supremo Lalu Prasad Yadav's son and former deputy chief minister Tejashwi Yadav on Thursday said that political vendetta against him exposed the Opposition's viciousness.
His comments came after JD-U leader Nitish Kumar, who resigned as Bihar Chief Minister on Wednesday, again took oath as Bihar Chief Minister on Thursday with BJP leader Sushil Kumar Modi taking oath as Deputy Chief Minister.
Tejashwi, in a series of tweets, said, "I delivered manifolds than what was expected of me. My performance perturbed our ally & BJP. Vendetta against me exposes their viciousness."
He further added: "I entered in government with a clean slate with a keen desire of writing a positive story for people of Bihar, only to find an opportunist rival.
"Past baggage, though unjustified, didn't perturb me when I was entrusted to carry the expectations of people's mandate, in the role of DyCM!" former Bihar deputy chief minister said, who is being held responsible for the departure of 'mahagathbandhan' government in the state.
Bihar witnessed political upheaval soon after Nitish Kumar resigned on Wednesday as Bihar Chief Minister to protest against his Deputy Tejashwi Yadav's stubbornness to stay in the Cabinet despite being named in FIR over the corruption charges.
However, Tejashwi put onus on Nitish and BJP for the latest political development in the state.
He said, "Much to their dismay, they were unable to point a single lacuna in my performance. So, they resorted to low level vindictive & opportunistic politics. Whenever there is change in a system, however unjust, those at vantage point were bound to get irked. Repercussions were expected & imminent."
He further added: "Vicious greed for power of opportunism will spell its own doom. People are not fools that they digest their penchant for wicked power grab."
However, the BJP on Thursday alleged that RJD supremo Lalu Yadav sacrificed the 'mahagathbandhan' for his son Tejashwi.