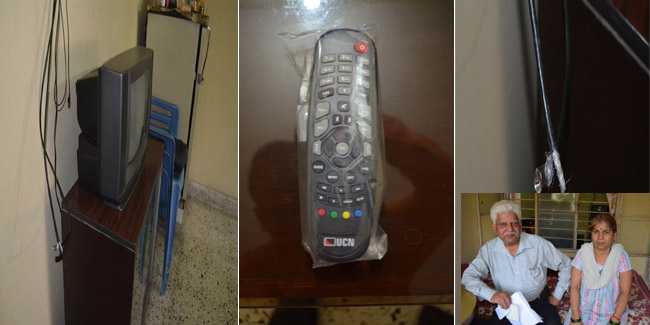 Nagpur News: The source of entertainment turned into a horrifying episode for a senior citizen recently. A senior citizen faced the wrath of a cable operator when he asked for a receipt for installing set top box in his house. The senior citizen, who was merely trying to follow the legal procedure was stunned with the reaction of the cable operator who man-handled him and his wife for the receipt and forcefully took away the set top box (STB).
Govinddas Verma (72) who lived with his wife Rani Verma (60) at Flat No. 103, Mangalam Apartment, Plot No. 241/242, Ramdaspeth, called his UCN cable operator to install STB. An employee of the cable operator came to install STB. After installing, he asked Rs 1,300 to the couple for STB. Govinddas asked for a receipt of the payment. The employees called the cable operator.
The cable operator along with two of his mates came to Verma's house. On enquiring, Verma asked the cable operator to give a receipt of the installed. The cable operator, Sujit Madhukar Ruikar, refused to give the receipt. Verma still insisted for the receipt and told Sujit that he had read the District Administration had asked the consumers to ask for a receipt after installation of STB. An argument emerged between Verma and Sujit regarding this issue. Sujit started shouting and man-handling Verma and his wife. When Verma refused to give him the money, Sujit forcefully uninstalled STB. Sensing something inappropriate, Verma immediately called on control police room and informed them about the incidence. A Charlie commando team reached Verma's house, Sujit had fled away from there along with his mates.
Verma couple reached Sitabuldi Police Station and filed a complaint against Sujit. Verma, who worked in WP Industries and now retired for past 10 years, informed the police that not only did Sujit man-handled him but also his wife.
When Sitabuldi police contacted Sujit, he said that he has good contacts with the senior officials and he would take care of the incidence. Police registered a non-cognizable offence against Sujit under Section 504 of the IPC.
When Nagpur Today scribe contacted Verma, the senior citizen narrated the whole incidence. He said, "These cable operators are indulge in sales tax, vat tax and other illegal activities which we tend to neglect. But, I will not ignore this issue and will fight against this irregularity." He further said that he would meet Rekha Chondekar, Joint Commissioner of Sales Tax Department; Asha Pathan, Additional Commissioner; Dr K K Pathak, Commissioner of Police, and Municipal Commissioner Shyam Wardhane in this regard.
Verma demanded strict punished for violation of rules to Sujit and said that his licence should be canceled as soon as possible. "People like Sujit take advantage of consumers' innocence, but we should stay vigilant of our right and fight for it," concluded Govinddas Verma who vowed to fight against such irregularities.
Ravikant Kamble