To encourage dialogue and action towards a global Nagpur
Nagpur: With a renewed zeal the office bearers of Nagpur First are planning for the Global Nagpur Summit 2015. While speaking to Media personnel in a press meet, Founder of CEO of Aagamil Inc, Naperville, USa and President of Co-Founder of Nagpur First Dinesh Jain said that with the sole intention of taking the vision of Global City Nagpur 2020 forward, Nagpur First is all set to host Global Nagpur Summit 2015. After successfully organizing the summit last year, the charitable trust is back with this year's edition that will further the vision and push it towards concrete action.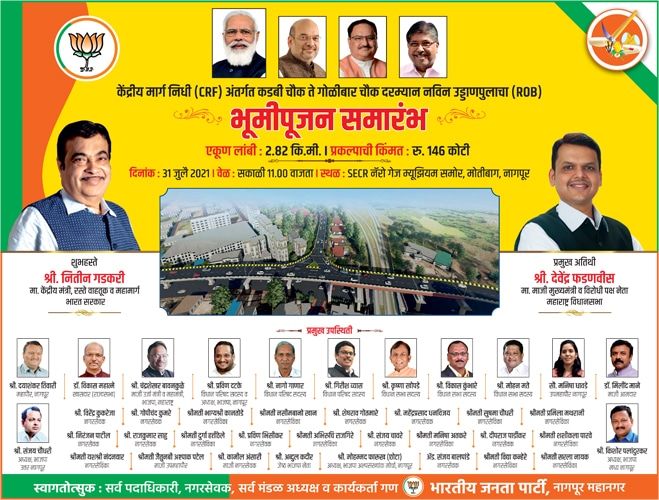 The summit is scheduled for November 21 and 22 this year and will feature accomplished speakers and panelists. The summit aims at promoting a healthy dialogue by Nagpurians in order to chalk out an action plan to make Nagpur a smart global city by 2020.
The summit will feature a full day City Growth Conference, a full day Global Investor's Conclave, a glittering evening of Global Nagpur Awards, 5 Global Leadership Talks and a half day Global Startup conclave. The summit will be addressed by stalwarts of the global industry with relevance to Nagpur and Vidarbha including CEO, Realize IT USA/ Ireland Manoj Kulkarni, Top Cardiologist and Electro-physiologist of UK Dr. Sanjiv Petkar, Partner & National Head- Life Sciences Practice, KPMG, India Utkarsh Palnitkar and Former CEO of Tata Interactive Systems Sanjay Sharma.
This citizen driven summit continues to receive active support by City Administration, Mayor's office, Political leaders, Business fraternity and Professionals. The NIT Director, Municipal Commissioner and Mayor have supported the event. Such private citizens' initiatives can catalyze Nagpur — a Global City by 2020. Tata Capitol will be the main collaborator for the summit along with other partners including Persistent Systems, pManifold, Shells Advertising, Sa Digital, Aagami Arts, Coffee Bean studios, TiE Nagpur, Lemon Ideas, Nagpur Today, MH-31.com, One Foundation, VASE, Alacrity and Yellow circle.
The summit this year will be a concluding event for the year long activities that were started after last year's summit. The global leadership talk series is a part of these activities culminating into the summit at the end of the year. This month, the fourth talk of the series will feature Founder, Chairman, and Managing Director of Persistent Systems Dr Anand Deshpande who will narrate the journey of Persistent's inception and growth from being a startup to becoming publicly-traded global company. Apart from this, Deshpande will also talk in detail about the many opportunities in the digital world and the many ways of tapping it for commercial success. The talk will be held on August 25, 2015 at Mimosa, Chitnavis Centre, Civil Lines between S pm and 7 pm
Earlier, Managing Director of SMS Envirocare Ltd Hemant Lodha gave a brief about the Award Ceremony and the initiative of Nagpur First to identify those People who have excelled in various fields and award them. He said that last year there were 12 categories for the awards.
A briefing on Nagpur First and its Initiatives was gven by Co-Founder and Director of pManifold Business Solutions, Nagpur Faiz Wahid.
A Brief note on Nagpur First:
Founded in 2006, by enthusiastic Nagpuris who have been associated with Nagpur over the years.Vision of bring a catalyst towards making Nagpur- a global city by 2020 Nagpur-First Charitable Trust is a registered Trust under Bombay Public frost Act, 1950.
Key People
• Dinesh Jain – Founder CEO of Aagarminc, Naperville, USA, President and Co-Founder – Nagpur First
• NishadSomalwar- Senior Sales Manager at Infosys Limited, San Franceco Bay Area
• Shashank Rao – Senior Director SAP Sales at L&T Infotech, Greater New York
• Faiz Wahid Co-founder & Director pManifold Business Solutions, Nagpur
• CA Hemant Lodha- Managing Director SMS Envocare Ltd, Nagpur,
• Hakimuddin Ali – Managing Director at Calderys India Refractories Ltd, Nagpur
• About 45+ Nagpuris from 41+ Global cities across the world are the Global Outreach Ambassadors for Nagpur First. These representatives are present tr USA, UK, East Asia, UAE and South Asia region+ Numerous volunteers across Nagpur. India and the World.
Efforts by Nagpur First:
Nagpur First over the years has helped the Nagpuri community in various possible ways
•    NF has helped the SMEs and Nagpur based startups to establish and expand their business
•    NF has helped school students to attend various international conferences
•    It has recognized bright individuals from Nagpur and help them in their endeavors
•    Planted 1000 Neem saplings on 191N July 2015 and plan to plant 4000 more in Nagpur
Key Initiatives of Nagpur First 
1. Sister City Initiative
•    Nagpur First partnered with Nagpur Municipal Corporation for finding sister cafes for Nagpur. Mandate letter received in 2009
•    Various presentations made to city councils and organizations.
Memphis
Napperville
Santa Clara
India Development Coalition of America
Mombasa
South Carolina
Sister City International Initiative
•    In Jan 2015, Navin' First facilitated and hosted Mt Bill Boerum at Nagpur who stoned Friendship City M011 with Mayor of Nagpur
Prominent Nagpur Showcase
Nagpur First through its websites hosts a showcase of prominent Nagpurians who have achieved international repute in their respective fields.
3 Global Leadership Talks Igniting local Minds through Global Sparks 
Past speakers
Chandrutyer, International Business Development Director Kingston Smith LLP, UK
Dr. Vijay Pereira. Area (Associate) Editor OB & HR Journal of Asia Busness Studies. UK.
Rahul Petkar CEO of Polaris Software Lab Canada Inc. Canada
Mohan Uttarwar CEO iNDxlifeCare, USA.
Dr. Ramesh Jain, Professor. University of California at Irvine, USA.
Suresh Vasu CEO. Vivo Kidney COP USA
Amit Waikar President of Indian Association Snangnal China.
Nagpur Smart City Council
•    Formation of Nagpur Smart City Council to act as a knowledge-based forum to support the city's foray into the smart city league.
First Global Nagpur Summit
The first summit was organized on 27th- 28th Dec 2014 and included,
•  A full day "City Growth Conference", inaugurated by Nitin Gadkari-Union Minister of Surface Transport and Shipping, GOI in your esteemed presence and that of MLA Sunil Kedar, MLA Ashish Deshmukh. MLA all 20 other key speakers and 200 delegates.
•  A full day "Global Investor's Conclave-4, inaugurated by CM of Maharashtra Devendra Fadnavis which aimed at benefiting the Investor community and the local industry by creating a common platform The event saw IS Rev speakers and over ISO delegates.
•  A glittering evening of "Global Nagpur Awards" recognizing 11 individuals and organizations taking Nagpur Global and over 150 invited guests
•  "Global leadership Talks", in which international speakers shared their Global perspective.