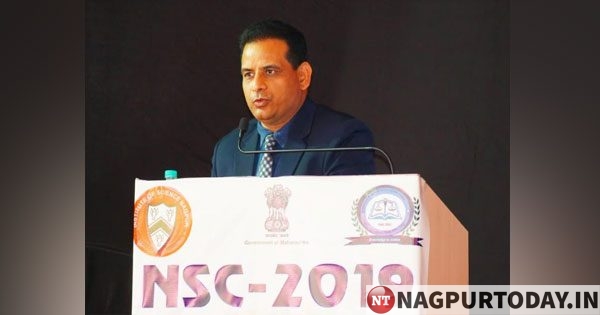 Nagpur: It was a zealous moment for the students of Government Institute of Forensic Science, Nagpur when Additional Director General of Police (DGP), Legal and Technical Hemant Nagrale, turned up as key note speaker at National Student Conference-2019 organised recently.
DGP briefed students, on 'Forensic Science and Utility in Police Investigation' while giving students a glimpse of a career they are pursuing.
As he interacted with the students, Nagpur Today caught up with DGP Nagrale who shared his views regarding several issues of forensic department, its significance and its connection with police department.
Need to match-up with modern technology
Nagrale is of the view that technology is meant for the benefit of the society, however if it gets in the wrong hands it could affect adversely. With modern and more accessible technology, criminals are trying out new techniques to commit crime. To avoid such eventualities, the Forensic Department keeps on upgrading its machinery and technology. "We tend to focus on the modernization of equipment and upgrading latest software. To ensure quick and correct results, fully equipped 8 labs along with 45 mobile vans are functioning across the state", he informed.
Police too make mistakes
"To err is human, and police are no exception" said DGP as most of the time evidence gets spoiled during investigation. He added, "The crime scenario is far more severe than it sounds. There are several people operating at the same time on a single spot. Thus it is natural that police could make petty mistakes while handling evidence. Forensic Department works hard to minimize its impact. We organize several of seminars and workshop of police department to curb this problem."
6 months internship helpful for students
On the issue of one month compulsory internship for students, Nagrale told Nagpur Today, rather than a single month, six would be more ideal for students to uptake knowledge of the field.
"There are 40% vacant seats in Forensic Department. With students assisting in the lab, we could solve two problems at a time. By allowing students to work under the wings of professionals we are not only providing a safe haven to the students which will further benefit them in their professional carrier but solving the problem of lack of human factor."
FIR, Courts orders only ways for Forensic probe
Forensic Department can only start interfering in any case, if we are directed by honorable court or police ask us to intervene following an FIR. Except these two ways, there is no other way, we could get involved with any case, told Nagrale to Nagpur Today.
Authenticity plays key role in deciding career
While conveying his message to young guns that are going through exams, Nagrale asserted that authenticity plays key role while deciding one's career. One should evaluate his or her needs and strength before choosing any career and later work accordingly.
By Shubham Nagdeve