NAGPUR: Forget life of the common man – who is bothered really?
The shocking thing is that the seat of the state government in Nagpur – the second capital of Maharashtra- the Vidhan Bhawan is suddenly plunged into total darkness while in session because "power had to be deliberately cut to prevent short circuit" explains Energy Minister and City Guardian Minister Chandrashekhar Bawankule.
Why would there be short circuit. Because water has flooded into the Bhawan's ground floor which houses power supply infrastructure.
Why did water flood into the compound and building of the Vidhan Bhawan?
Because gutter lines, and drain water channels that are supposed to carry away rain water are chocked.
What are they chocked with? The ubiquitous plastic bags?? No, empty beer bottles!!!
(One had heard that politicians, bureaucrats, Babus and even Ministers treat the Nagpur sessions as long picnics and R &R opportunities, but one never knew it was literally so! That even the Vidhan Bhawan is turned into a Beer Bar ?!)
As a result of the power cut, the proceedings for the day stand cancelled, prompting the Opposition leaders to comment " if they cannot manage flood waters after ' two hours of rain' how can they manage the state? If situation in Nagpur itself gets helpless like this, how will they solve the problems of Vidarbha?"
Really, a day when collectively all Nagpurkars will die of shame, and it won't be in 'chullu bhar pani' but veritable rivers and waterfalls where our roads should be!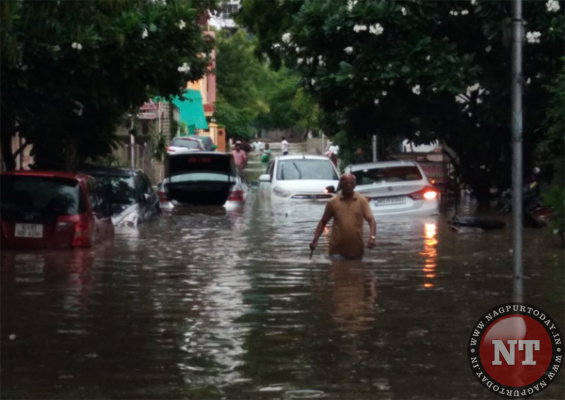 Literally there is so much rain water – which has no outlet what so ever – gushing furiously on what till yesterday were the 'streets' of Nagpur, that forget cars, an entire bus is gobbled up.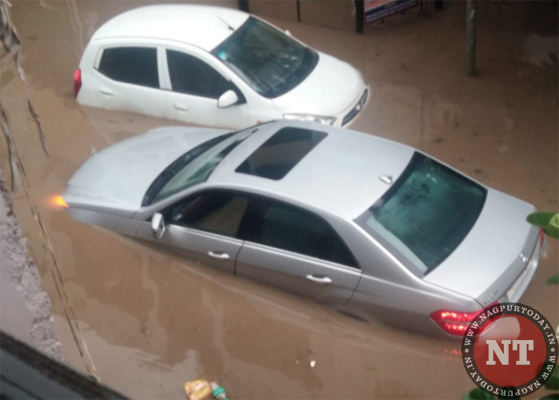 Normal roads are inundated for sure; but the scene is unbelievable where half construction of cement roads is done and half part 'under construction.' One can see a veritable waterfall there.
Tap tap tapka pani, pani ne aag laga di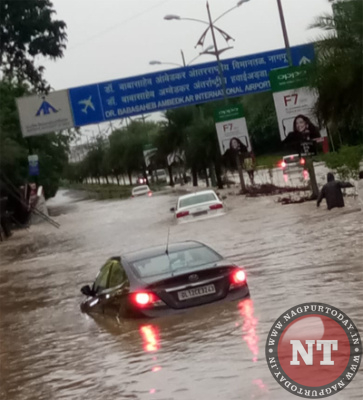 (One had seen precisely this scene at the famous W building of MIHAN two years ago when it rained, much less than today, of course.)
People who live in Nagpur's many Bastis, (slums) who were used to water leaking from the roof over their heads say on the other hand that, leaking roofs is not the problem any more. (They have fixed their roofs properly).
" Water is gushing into our homes from the 'new cement roads' " they complain.
One such area is Kachipura basti of Ramdaspeth, one of the most 'upmarket' localities of Nagpur. Many 'working' families have lived there for decades.
"Never have we faced a situation like this" they say. "The street water has come into our house and destroyed not just our furniture and our beddings but even our food stores. Our raw material like rice, atta, dals are all soaked in water and ruined. No one has been able to cook today, our children are running around hungry. There is no electricity in any house either."
Their local Corporator, Rupa Rai, who lives a stone's throw away was greeted with angry protests and complaints when she visited Kachipura.
"Why have you built roads like this without providing for adequate 'nalis' to carry water away? Why has water entered our homes like this?" They were seen questioning her.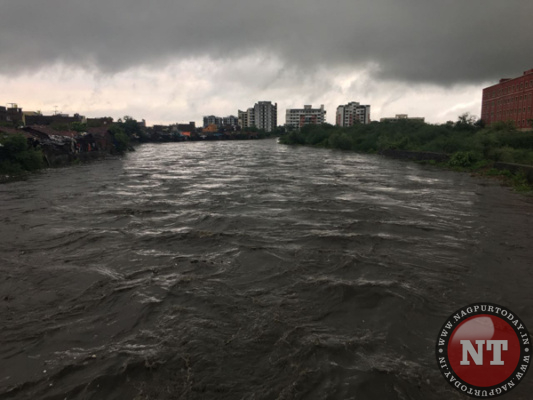 All she could 'promise' was : "get your Adhar cards, your BPL cards, I will try and get you compensation for your losses." (Naturally, no one believes this new promise of this 'promise a minute' party!)
Who is responsible for this sorry mess of the city?
For the past 2 – 3 years, Nagpur has seen ostensibly a hectic pace of 'developmental activity'. New roads are being built, without digging up the old roads; recently built flyovers are being demolished to make way for 'new' double decker bridges. Metro lines are being built across the length and the breadth of the city. North – South and East – West literally.
But the outcome shows a shocking lack of proper planning and co ordination.
Is Nagpur the first city in the world where Cement roads are being built? Have proper procedures, laid out internationally, been followed? Have they built the supporting eco system that should go with such concretization? The drains, the nullahs, the storm water outlets?
Forget all this, they did not even bother to check that the levels of the new roads did not rise above the old roads and compounds of buildings!
(The quality of the roads itself is also questionable, but the less said about them the better.)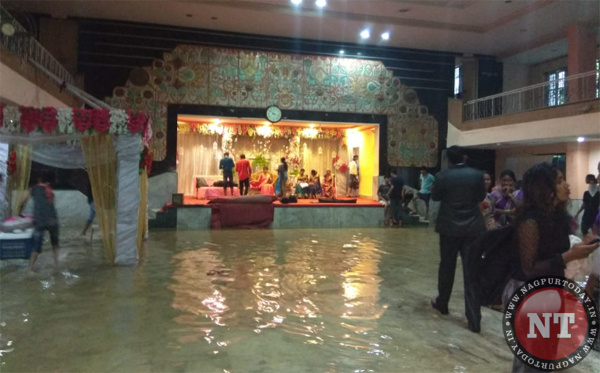 Who deserves to take the credit for all this Vikas gone mad? Nagpur Municipal Corporation, NIT or State Government? Or builders of the Metro??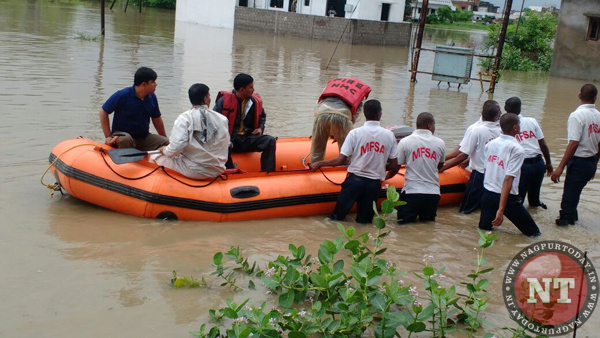 There can be no gain without pain, they will lecture us.
But gain for whom?? And pain for whom?
That is the question.
This question needs answered from the one party that controls both NMC as well as State Government. The Ruling BJP .
Four years ago, while campaigning for the state Assembly elections their most prominent slogan was
"Kuthe nevun thevla majhya Maharashtra la?" (Where have you taken our state?? This was supposed to be a slur on the Congress – NCP combine that had ruled the state for 10 years.)
Today, they need to answer their own question – What have they done to our Nagpur??
… BySunita Mudaliar</strong Executive Editor