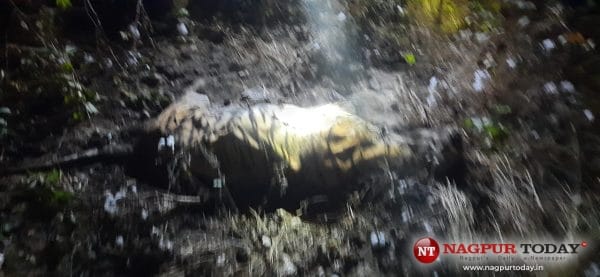 Nagpur: Days after a young tigress was found dead under mysterious circumstances in Karwa beat under Ballarshah forest range, a tiger was found dead on Monday night in a farm, a kilometre from Umred-Karhandla-Paoni Wildlife Sanctuary.
This is the 38th tiger death in Maharashtra, including mortality due to natural causes and poaching. The tiger must be from the sanctuary, said sources, adding electrocution cannot be ruled out. The carcass was noticed by owner of the farm Mahesh Kothiram Popatkar, Manora.
ACF Narendra Chandewar confirmed the spot where the tiger was found dead is in survey number 16 in Mokhala beat under Bhiwapur round.
This is the second tiger death in two days. On November 27, a decomposed carcass of a six-year-old tigress was found with all her body parts intact in Ballarshah range.
Electrocution and poisoning still seem to be major causes of tiger deaths around protected areas in the region. In January this year, tigress C3 and her two sub-adult cubs died in Karhandla beat due to poisoning. In January 2019, a tiger pair of Rai and Charger too had died due to poisoning in Paoni range of the sanctuary.