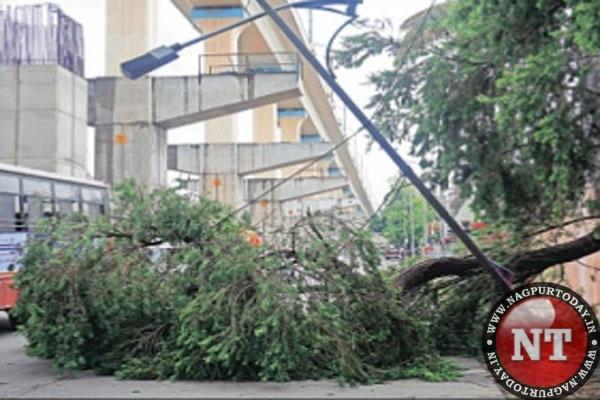 Nagpur: Once again Nagpur's green cover bore the brunt as a thunderstorm hit the East Nagpur area on Wednesday afternoon. Many trees in various localities were uprooted while many more were damaged due to the gusty wind. A rooftop solar unit also was uprooted due to strong wind.
Fortunately, no one was injured as the solar unit came crashing down. Nearly 150 trees were damaged by the thunderstorm. The electricity infrastructure in the Second Capital of Maharashtra also took a hit due to which many localities witnessed power-cuts. The citizens are already facing intermittent power-cuts during the peak summer. Damage to the power infrastructure put the powermen on toes to keep the things under control. A communiqué from Maharashtra State Electricity Distribution Company Limited (MSEDCL) stated that nearly 78 electricity poles were damaged due to the thunderstorm.
The area of damage was mostly Wardhaman Nagar and its surrounding areas. Heavy rains accompanied by strong winds lashed the area in the afternoon. As the heavy branches of trees fell on the power lines it led to severe damage to the distribution network that according to the MSEDCL spokesperson led to disruption of power supply in 20 centres.
After stopping the rains, the MSEDCL team immediately took up repair work. By 6 pm of the 20 channels, at 18 network centres the power supply was restored. Thereafter in the remaining two areas the power supply was normalised within the next one hour. Apart from Wardhaman Nagar, heavy rains along with strong wind also caused some damage in Butibori area. There about eight electricity poles were damaged.
In Nagpur, the areas where electricity poles were damaged are on Central Avenue, Kawrapeth, Mudaliar Layout, HB Town, Satranjpura, Shanti Nagar in the two subdivisions of Pardi and Subhan Nagar under Gandhibagh Division of MSEDCL. After assessing the damage, the MSEDCL teams first prioritised high tension lines and then went on repairing the branches in the residential colonies.
At Butibori Division, three poles were damaged in Dhanoli village, four in Wadgaon village, and one each in Shirur and Kanholi villages. Engineers and technical staff of MSEDCL reached the damaged area and are working to restore power supply by repairing the power system. Meanwhile,
Nagpur Municipal Corporation (NMC) system also was on its toes in the aftermath of the storm. Reports of uprooting or damage to trees were reported from Satnami Nagar, Hiwri Nagar, Bhaurao Nagar, near Garoba Maidan and VMV College. Many vehicles were also damaged as they suffered the brunt of the storm.