Nagpur News: Sunday witness three more chain-snatching incidents in the city under Ajni, Ganeshpeth and Pratap Nagar areas.
In the first case, two mobike-borne thieves snatched a gold chain worth Rs 60,000 worn by a 52-year-old woman. Sushila Subhash Kutare, a resident of Ayodhya Nagar, near Ram Mandir, was going back home from a birthday party on his son's Dio scooterette (MH 31 DA 3975). At Balaji Nagar Square, near Sonune Hospital, two unidentified youths came from rear and snatched the gold chain worn by Sushila. Before she could raise an alarm, the thieves fled away on their Splendor bike (MH 31 DJ 5834). Ajni police charged the unidentified youths of theft.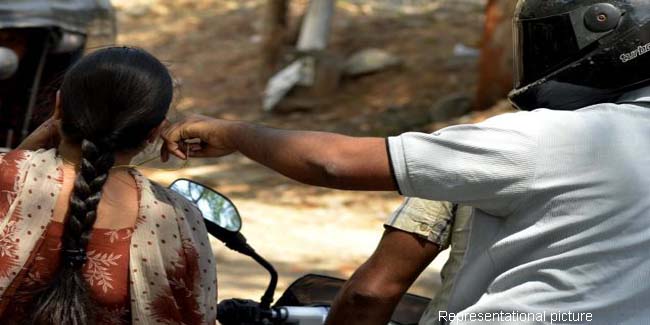 In the second case, two unidentified youths snatched mangalsutra worth Rs 40,000 from a pedestrian woman in near Cotton Market. Police said, Sangita Atul Fartande (38), a resident of Plot No. 50, Galli No. 1, Maneda Road, Mahakali Nagar, was going on foot from Agyaram Devi Mandir to Cotton Market. Near Post Office, Shop No. 25, two unidentified thieves snatched away her mangalsutra and fled from the scene. On the complaint of Sangita, Ganeshpeth police registered a case.
In the third case, robbers relieved a middle-aged woman of her gold chain under Pratap Nagar Police Station area on Monday. Police said, Asha Durvas Ninave (49), a resident of Q No. 5/7, Pitrupunyayi Raghuji Nagar, behind Mohota Science College, was going back home after attending a naming ceremony with her son on his Activa (MH 31 EB 2771). Two unidentified youths came from behind near Indian Oil Petrol Pump, in front of Indraprasth Building, Deendayal Nagar, and snatched her gold chain worth Rs 90,000 and zoomed away. Asha rushed to Pratap Nagar Police Station, and lodged a complaint against the thieves.
Cops have charged the thieves under Sections 392 and 34 of the IPC in all the cases and have started the investigations.