Resident Doctors, students takes out Candle march to protest inaction by police

Three days since doctors of IGGMC were beaten up and still no arrests

Nagpur: Nearly 150-200 MBBS Students, Resident Doctors and Post-Graduate Students (MD) took out a silent candle march on October 27, 2015 to protest inaction by police. Though still young and having a passion to cure patients, they controlled their anger and took out a silent candle march.
In what could be termed as callousness or reluctance on the part of Police personnel of Tehsil Police Station, no accused have been arrested. While relating the incident to Nagpur Today, some doctors who were present close to the Casualty Ward said that on October 24, 2015 at around 6:30 pm, some seven youth brought a friend of theirs, a youth aged 22 years to Indira Gandhi Government Medical College (IGGMC).
Right from the counter where the patients had to take out an admittance paper, these seven youth in the age group of 22-25 years (allegedly under the influence of liquor) started fighting and using abusive language to fight with the officials wanting to expedite the admittance and treatment of their patient.
The patient was examined by the Chief Medical Officer, Lecturer of Medicine Department and Duty Medical Officers. After examination, (according to the doctors) they found nothing clinically wrong with the patient.
However, they started intravenous treatment for alcohol induced chest-pain (which was more of psychosomatic nature). Since the patient was admitted into the casualty ward, many other patients too were present and required constant medical attention. However, the seven youth who had accompanied their patient demanded 100% attention of all the medical staff towards their patient only. To begin with, they used very foul and abusive and vulgar words to the Nurse on duty and asked her to stand next to their patient instead of sitting and doing some documentary work which she was engaged in.
They then targeted the doctors including the Chief Medical Officer and other doctors and used the same abusive language demanding 100% attention to their patient.
When the doctors told them that there are other patients who are of more serious in nature and needed urgent attention, they used very vulgar abusive words to shout at them.
After some time, the seven goons, just removed the Intravenous line and took the patient out. The doctors and other medical staff could do nothing but gawk at them. After taking the patient out, two youth in the age group of 22-25 from among the seven youth came inside and thrashed the Chief Medical Officer and the Senior Resident Doctor and ran out. Some other doctors from nearby wards ran after them, so that they can catch them. However, the seven goons thrashed those doctors and the Security Guard who tried to prevent the doctors from getting trashed.
Immediately after the incident, the senior medical staff of IGGMC rushed to Tehsil Police Station and registered a case of manhandling of doctors by the goons. The Doctors also provided the CCTV Footage of the entire incident. The young doctors have been following up with the Police personnel of Tehsil Police Station for the past three days. Every time all that they received was that they are yet to find the accused.
Some sources claimed that the youth had given the address as only Mominpura Nagpur and for best reasons known; the police do not seem to venture in Mominpura area to arrest the accused goons.
On October 27, 2015, some of the Senior Resident Doctors and CMO went to meet the Commissioner of Police. He assured of an implicit action soon, however he wanted some more time.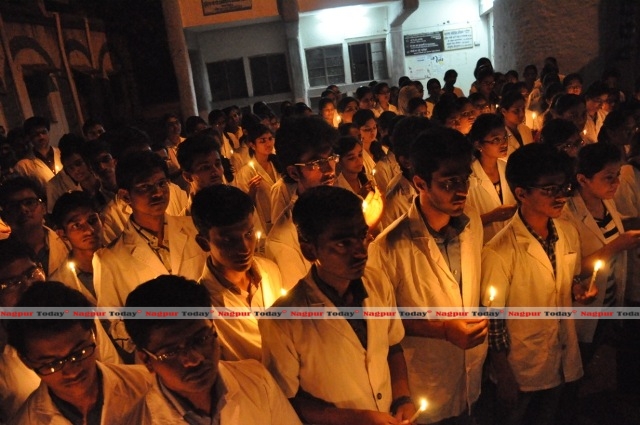 Jurisdictional gimmick
Often one notices that many small crimes or offences are committed in plain eye-sight of many cops. If approached, all that they claim is that they do not have any jurisdiction over that place. The doctors of IGGMC alleged that often doctors are manhandled by relatives of patients.
They alleged that policemen who bring accused for medical check-up are present at the spot. However, they remain mute spectators of the whole incident. When approached by any doctor, they simply answer that they are escorting an accused and so they do not have any jurisdiction to intervene or take any action.
When the Resident Doctors pointed this to the Senior officers in Police when they went to meet him regarding inaction by Tehsil police, the officers is alleged to have assured them that he will soon take out a notice which will ensure that any policeman whether on duty or not, whether on another errand will have to intervene and prevent attack on doctors.