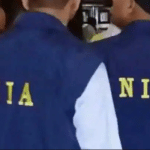 Nagpur: A special team of National Investigation Agency (NIA) led by Deputy Inspector General (DIG) Vikram Khalate arrived in Nagpur in connection with the probe related to the threatening phone calls made to Union Transport Minister Nitin Gadkari.
The city police and the NIA on Thursday had a closed-door meeting for about seven hours at the Police Gymkhana here regarding the two cases registered against Jayesh Kantha alias Jayesh Pujari who had made threat calls to the office of Gadkari in Nagpur from the Belagavi jail barrack on two occasions earlier this year.
Though the NIA is looking in the matter, the Ministry of Home Affairs is yet to issue the agency an order to formally take up the cases.
On Thursday, a senior officer of the Deputy Inspector General of Police rank and another officer of Superintendent of Police rank had a detailed discussion with the city police's team which had interrogated Kantha. The NIA officers scrutinized the documents, interrogation reports and other records collected by Nagpur police.
In the past, Commissioner of Police Amitesh Kumar had submitted a 70-page investigation status report and interrogation details to various departments pertaining to Kantha's investigation.
According to the police, Kantha was also behind hatching a plan to kill former Karnataka's Deputy CM KS Eshwarappa. A converted Muslim-turned-Lashkar-e-Toiba (LeT) operative, Kantha had first called up Gadkari's office on January 14 from his barrack asking for Rs 100 crore in the name of underworld don Dawood Ibrahim.
Kantha had made a second call to Gadkari's office on March 21 and demanded Rs 10 crore, again in the name of Dawood. The Nagpur police had brought Kantha to Nagpur on March 31 and had recovered two handsets, two batteries and a SIM from his barrack.
During the course of investigation, city police invoked the stringent Unlawful Activities (Prevention) Act (UAPA) against him. NIA had registered a third case against Kantha and others for allegedly conspiring to threaten political leaders and engaging in anti-government activities from different jails. The case was registered at Bengaluru.
Kantha was introduced to don Chhota Shakeel through Rashid Malbari. He was also trained in bomb-making by south India commander of LeT, Capt Nazer.