This Nagpur Artist has sold her paintings all over the globe!


Nagpur: You wouldn't believe it when you see her, Shagufta Mehdi looks hardly 25, you would slate her as a Fine Arts student, dabbling in some paintings as her college assignment.
Well, she is neither : not in her 20s, nor a Fine Arts student: now or before. She is a graduate who did B.A. from LAD college over a decade and half ago!
She is a self taught, but accomplished Artist, who has sold her paintings not just in Nagpur and India but across the globe in countries like USA, China, U.K., Italy (yes, even in the citadel of the Art world!), Switzerland, Doha and Dubai to name some.

Her work has been displayed at 'Desi Musings' at Taj Delhi and 'Indian Musings' at Pune. She has participated in Gallery Art League Index in Mumbai.
As often happens, the name Shagufta Mehdi is probably better known in Indian metros than Nagpur, since she has been covered and interviewed by many national newspapers already!
We, at Nagpur Today came across Shagufta when she was leading the team of artists and Art enthusiasts doing the large murals at Nagpur Airport as a project of HERD initiated by Dr. Suchika Gupta Deshmukh. This project was undertaken by her and an American Artist who was then in India on a Fulbright scholarship. They had painted the beautiful murals across three walls of the Nagpur airport ( Arrival lounge) in a matter of 2-3 weeks! Helped by a lot of 'assistants' but the main painting work had to be done by the two artists.
Shagufta Mehdi, nee Hamza, has quite a journey behind her before she got the huge and prestigious canvas of the Airport walls to paint on.
Life in Mehdi Bagh a big influencing factor
Born and brought up in the piquant Mehdi Bagh colony of Nagpur, little Shagufta was always surrounded by an atmosphere of Art, culture and beautiful skills such as embroidery, crocheting, textile painting, knitting etc.
The Mehdi Bagh area itself exudes this rich in culture and Art atmosphere. It is a unique colony, with lovely well designed homes and the whole place is beautifully maintained inside out. You walk into the colony and you are struck by the elegant architecture of the buidlings; you step inside a house and you can see and feel the artistry that goes into furnishing it! Embroidered cushion covers, crocheted curtains and table cloths, lot of greenery everywhere: how could this atmosphere not charge anyone growing up here?
"Even our weddings are an opportunity for displaying our craft – the bride's trousseau is painstakingly embroidered by her mother and aunts, they begin making it even when the girl is still growing up!" Says Shagufta proudly.
Early years…
Shagufta and her elder brother grew up in the home of Noman Hamza and Fizza Hamza, both well educated academicians.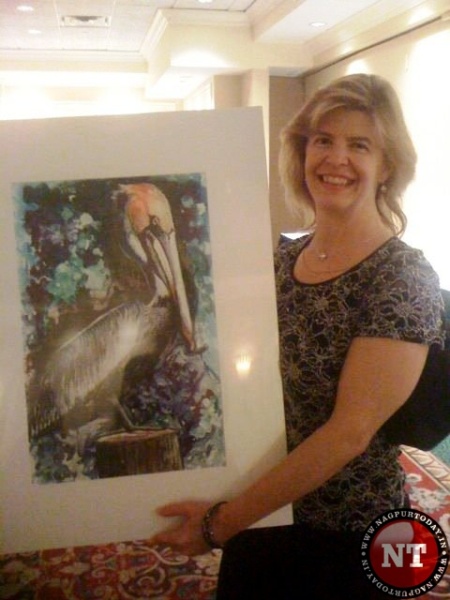 While dad Hamza was an HOD of English literature at Dhanwatey National, mom Fizza was Principal of the famous Tata Parsee Girls' School of Mahal. Little Shagufta was artistic by nature, but a little confused about what profession to get into! She toyed with the idea of going to Mumbai to study Art at the famous JJ School of Arts, but some hesitation by her father in sending his darling daughter to Mumbai to study and live there alone, had her going to a Nagpur college and studying English literature herself.
"If I had really pushed for it, he would have let me go, but I did not. I was not very ambitious about pursuing a Career as an Artist then; may be I myself was not so sure about my talent ?" Says the internationally selling Artist modestly!
But she kept painting, whenever she could, using different mediums such as water colour and oil.
"Flowers inspired and taught me to paint" says this sensitive artist, who also loves to roam the lanes and by lanes of a city to let life inspire art.

First Commercial venture
It was a chance meeting with Architect Anil Agrawala sometime in 2003-4 that changed the course of her life. Career wise.He saw some of her paintings, done in the Contemporary Realism genre of painting and he was very impressed. He made some suggestions, gave some advise and then was instrumental in getting his clients to commission 4-5 canvases painted by Shagufta which still hang proudly in their lavish house in Byramji town.
"Mr. Agrawala has been a very early, guiding force of my life" she says gratefully. Shagufta was married by then and husband Suhel, a businessman, was also another who pushed her to follow her natural talent and inclination towards painting. (Shagufta had dabbled with many career options till then – teaching, fashion designer etc. etc. but nothing had felt really satisfactory. This had had her parents worried too. "Every time I decided to try something new they would ask ' are you sure you will do this for more than 6 months? Is this IT – what you want to do??! Now they are really happy to see my confusions resolved and my talent so well appreciated!" says Shagufta.)
The international arena
Shagufta and her paintings were popular on social media by then and she was getting orders from friends and friends of friends. She was also networking through facebook with foreign artists, one of them being the American artist Paul Jackson. He genuinely liked his Indian friend's work and when an opportunity came he advised her to send her painting for an auction for charity that was being held in USA.
Remember the ghastly Gulf oil spill off American borders in 2010? This spill is recognized as the worst oil spill in U.S. history. Within days of the April 20, 2010 explosion and sinking of the Deepwater Horizon oil rig in the Gulf of Mexico that killed 11 people, underwater cameras revealed the BP pipe was leaking oil and gas on the ocean floor about 42 miles off the coast of Louisiana. By the time the well was capped on July 15, 2010 87, an estimated 3.19 million barrels of oil had leaked into the Gulf. The black sludge was spreading and affecting marine life badly. Many environmentalists and avian lovers were involved in damage control missions and they needed funding. Hence the idea of Art for a Cause, the auction of paintings that was held in Baton Rouge, Louisiana.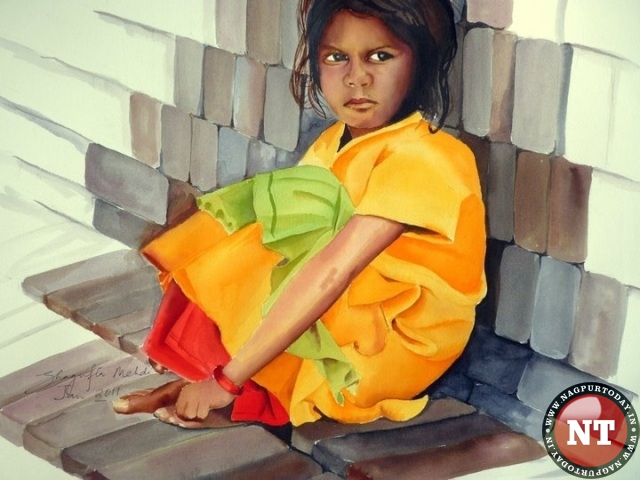 Shagufta sent a water colour painting of a big Pelican with the background of a water body. One American lady looked at it and fell in love! She bought it for $500/ a big deal for a new and unknown – in USA – artist!
Now she has many paintings sold in USA, in states like Texas etc.
Formal training
Once her paintings began selling, Shagufta seriously considered going back to school to formally learn painting techniques and international history of Art. But Paul Jackson advised her against it.
"You will learn more by attending workshops of acclaimed artists instead" he said. She followed his advise and has attended workshops of artists like John Bayallis 'Hyper realistic Painting', Millind Mullick of Konkan at 'Painting Holiday' and portrait painting by Proff. Vilas Tonape.
Are established artists open in sharing their secrets? We ask.
"Very much so! They are systematic and sincere in guiding new artists and do not hold back on any of their 'techniques' or secrets! All workshops were very valuable for me" says Shagufta.

Future Moves
So what does this young Artist aspire for the future?
"To one day have may paintings hanging in famous galleries. To hold one-man exhibitions in such places; and then some day conduct my own workshops, my own Painting Holidays for learners" says the mother of an eleven years old son.
No, he does not paint – not yet at least!!
—Sunita Mudaliar (Executive Editor)