Nagpur Today.
Nagpur was first awed by Dr. Brijesh Dixit, M.D. of Maharashtra Metro, 'Aapli Metro' when he did a lightening fast, superb and clean job of demolishing the Chatrapati flyover on Wardha road – which is to be replaced by a double decker flyover for cars and metro rail.
Paying attention to Nagpurians' sentiments, he offered a novel project of 'take your selfie with the bridge' before it was brought down.
Beginning with that, this man has been making his way into our conversations, rising in our esteem, even our affection! (The fast work on the metro project, the iconic metro stations, the thousands of trees planted behind Ambazari lake to create a veritable 'forest' – all have caught our attention and admiration.)
So when his only daughter Tanvi got married to her beau Naishad, all of Nagpur turned up to bless the couple at the reception held at CP club lawns in Nagpur. (The wedding had been solemnized earlier in Mumbai.)
As is Dixit's penchant, the lawn was tastefully decorated with simple but unique ideas like a cycle with loads of flowers arranged in its carrier and across the handles… vertical arrangement of more floral displays reminding us of the 'vertical garden' on the Metro columns near the airport.
So Nagpur industrialists, business people, politicians, administrators and socialites, all graced the occasion – and received a warm welcome.
The food laid out by Rajput caterers was both international and desi! Specially the 'mithai' section.
No wonder the party went on till 12 midnight – and for once the Nagpur Police did not object, since even their CP was seen enjoying himself in a rare leisurely mood…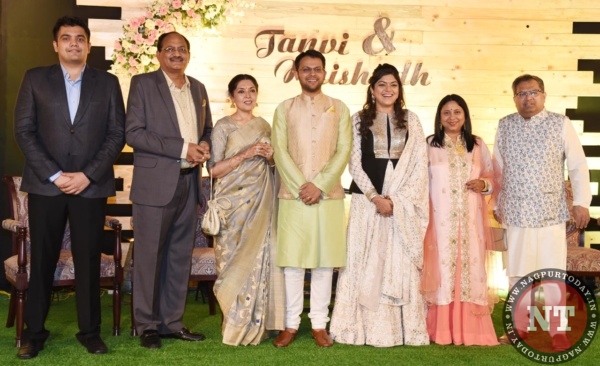 By Sunita Mudaliar (Executive Editor)
Pics by Rajesh Bansod