Nagpur: The Red Platter 2.0 was the second edition of the meet-up flea market organized by ALL Ladies League Nagpur Chapter for Startups Support. This event was held on 12th December 2021 (10 am – 10 pm), at Chitnavis Centre, Nagpur. Aspiring ladies of Nagpur city, who are multifaceted and want to establish themselves, participated in this innovative and creative event.
ALL, as an organization enables women the world over to connect and network with their fellow women, providing an opportunity for collaborative growth.
ALL Ladies League is the world's largest All-inclusive international women's chamber and a global movement for the Welfare, Wealth and Wellbeing of ALL by empowering women's leadership. Ethos: The acronym ALL stands for our inclusive spirit and faith in the power of one and all.
Thus, this particular exhibition also served as a chance for the ladies to come together with a common purpose. There were over 35 ladies who participated in this eventcoming from varied professions and backgrounds. They are doing exceptionally well in fields like Mind and Body Healing, Creative handicrafts, Home décor, Custom clothing, cakes, chocolates and much more.
The Chief Coordinator for this event was Ms. Simran Dua and the PR Head for ALL Nagpur was Ms. MalvvikaFulwwani, who, along with their Organising team,left no stones unturned in their effort to create a wonderful platform for women in Nagpur to showcase themselves and come together.
This event also showcased "Talk and Shop" where women in the service sector addressed the crowd, creating awareness of their specific fields like Mental Health, Baking, Benefits of Indoor Plants, Financial Management, Numerology, Graphology and more. It was a wonderful opportunity for people to connect, network and collaborate.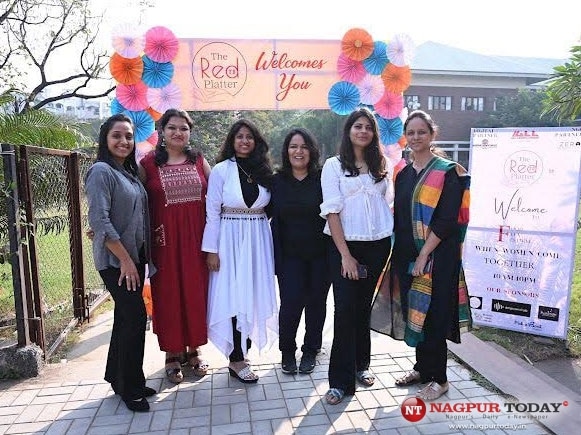 The Sponsors for the event were M.K. Treats, Pick A Book Nagpur, Empowr Club, Pathshala Academy & Salon and Reading Keeda Library. The Exhibition was also supported by Nagpur Ladies Circle as the Digital Partner, who visited the event and greatly appreciated it. Zero Gravity, as the NGO Partner, had its volunteers at a stall, "The Happy Store", sharing about their projects and selling their goodies. There wasalso a Donation Box placed at the Stall, the proceeds of which, went towards the community service conducted by Zero Gravity.
Among the esteemed guests was Mrs. Shruti Sancheti, whograced the occasion to motivate the ladies and keep the morale high. The footfall was over 1000 and the response from all the attendees was very positive and encouraging.
All in all, and ALL with ALL was a super event to remember!