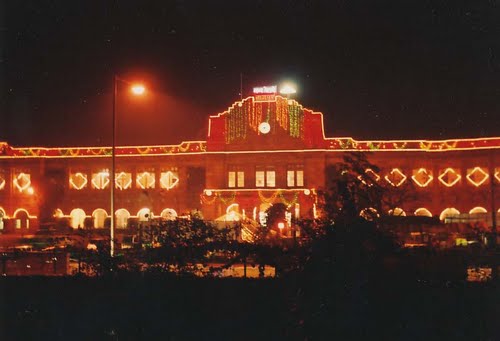 The Eastern side of the Nagpur Railway Station will be getting a makeover .The Central Railway headquarters has approved proposal for the home platform on the eastern side of the Nagpur Railway station, said divisional railway manager (DRM) Brijesh Dixit. Home platform is one from where passengers have direct access to the station and don't have to use bridges to enter or exit it. Presently, platform number one is Nagpur's only home platform. This will definitely ease a lot of pressure of the passengers as during season time it becomes very crowded.
At present, the railway station has seven platforms. This eighth home platform will be used by trains originating and terminating at Nagpur. "Trains using this platform will come on the main line only after Ajni, which will reduce the time required to cover this distance," informed Dixit. He also added that the central railway is also gearing up to manage passengers rush for the upcoming festival season.
Senior divisional commercial manager (SrDCM), CR, Sumant Deulkar, added, "After monitoring the reservation patterns we have sent to the headquarters a list of special trains needed during festivals. In my knowledge, this is for the first time the division has sent such requirement."
Dixit added the schedules of these special trains and information regarding reservations will be made public well in advance to avoid any further inconvenience.
Also, a new waiting hall with a capacity of 75 seats will be completed within a month. Besides this the CR is trying to find out how the Maharaja Retiring rooms can be more affordable. "We have introduced a double-decker bed. The upper bed will cost Rs100 per 12 hours while the lower will cost Rs200. Currently; we are charging Rs240 per bed. If we get a good response, we will introduce more such beds," said Dixit.
Dixit also said that with the coaching complex at Ajni, CR now had the prerequisites to run more trains, including a Duronto to Delhi. CR will also be making identity cards with rate charts compulsory for coolies from Thursday.
Dixit also said that he has banned the money taken to use the toilets and has made it free for the available to the public and will also increase the safety of vehicles in the parking area.
The other people present there were senior divisional commercial manager (SrDCM) Dr Sumant Deulkar, PRO PD Patel and Station Manager Das.