Exotic Ink Tattoos
Jitu Bharadwaz is a big name as a Tatoo Artist. Tattoos being his passion, Jitu has completed his diploma in electrical engineering. Having an artistic mind and skill, Jitu first developed his interest in body art and piercings when a friend of his tattooed his arm. So fascinated was he with his own tattoo that he decided to turn his passion into his full time profession.
His interest in tattoos got him to Mumbai where he learnt tattooing and collected all the needed information about his profession and the required equipments. Now after all these years down the line,Jitu has earned such name in his professsion that he not only has his clientele spread all over india but also abroad. Such is his love for his profession that he tried all his levels best to take tattoos to a completely new stage by introducing complete sterilization, colours and of course beauty to your life and style. Primary concern for a person getting a tattoo done is that is it safe? Does it have any risks? Are all the possible sterilization and safety measures taken care of?Well all your questions will be answered at exotic ink tattoos.

Exotic Ink maintains complete sterilization and take all necessary precautions when making the tattoo. Starting with cleaning and sterilizing the skin with a diluted antiseptic solution, then there is use of a sterilized scalpel to remove all hair from the area where the tattoo will be made. There is usage of a completely sterlized needle for your tattoo which is opened in front of you.
The ink used for tattooing has been pre sterilized while Jitu himself wears disposable gloves to avoid any kind of sterilization related complications. While the tattoo is being done, your skin is constantly sterilized with an antiseptic solution and after completion it is cleaned with fresh tissues and an anti microbial ointment is also applied. Also proper instructions are given for the maintainance of your tattoo which need to be followed strictly until your tattoo heals completely.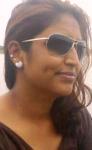 Suhani Vanjani