Nanda's appeal to the mayor of a distinguished genealogy: Hoisting Independence Day

Nagpur: Nagpur city is moving in the direction of the Smart City. Smart Cities is added to each of the smart urban services. Also work is underway. Nagpur is a smart public transport. Metro is coming. Green bus running on ethanol, electric taxi, e – several environment-friendly transport facilities across the country by the rickshaws have been available only in Nagpur. But as long as people do not take advantage of these facilities, it is no use unless. The Mayor said Mr Nanda distinguished genealogy citizens should take advantage of all the facilities and corporation to help more and more as:.
India's independence anniversary held at the headquarters of the Civil Lines, Nagpur Municipal Corporation Hoisting sohalyaprasangi were talking about him. The Deputy Mayor diparaja pardikara stage, opposition leader TANAJI vanave, Commissioner Virendra Singh, Senior Councilor Sunil Agarwal, Additional Commissioner of Police Ravindra Kumbhare, additional commissioner Aziz Sheikh, Dr. enaiesaelace Director. R. Z Siddiqui were also present.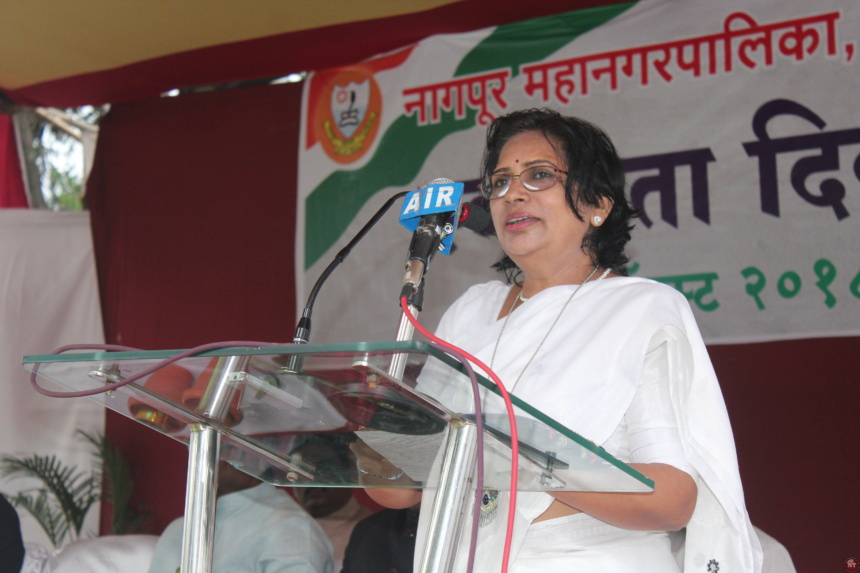 Next the mayor said Nanda, a distinguished genealogy, Nagpur is emerging as the 'model'. Each of our facilities to smart. Development, beautification, environment-friendly festival is starting to work in a variety of pailumantargata. The advantage of a variety of schemes – the constituents should citizens, that the mechanism is working around the clock. All this work is necessary the participation of citizens. He called citizens to be involved in each sector program, activities.
Earlier in the hands of the mayor Hoisting Nanda distinguished genealogy. Fire Squad Nanda distinguished genealogy Mayor, Deputy Mayor diparaja pardikara, opposition leaders and monitored by TANAJI vanave Commissioner Virendra Singh. Then accepted the salute at the parade. The program was conducted by Assistant Commissioner Mahesh morone. Thanks, public relations officer Ashok kolhatkar. The Deputy Commissioner Rajesh Mohite, Dr. Ranjana lade, transport manager Jagatap Shivaji, Manoj talevara Chief Engineer, Technical Advisor Vijay banaginavara, corporate secretary Harish Dubey, Assistant Commissioner (sapravi) and Mahesh dhameca the Assistant Commissioner, Chief Engineer, Head of Department, officers and employees were present.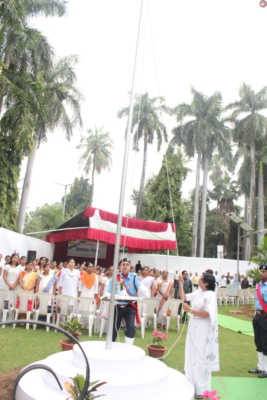 Ward 15 to 50 lakh award
On behalf of the Department of Urban Development, Government of Maharashtra was conducted competition ward ward area clean Nagpur Municipal Corporation. The dharamapetha, including without division no. The first prize of Rs 15 to 50 lakh was released. Second Division No. No. dhantoli jhonaantargata coming. The 17 was announced to the tune of Rs 35 lakh. Ward No. 15 lakh third number dhantoli jhonamadhilaca. And Ward No. 33. Was released to divide 35.
Touring ambulance Releases
National Urban Health Mission justification by Independence Mayor and Commissioner Virendra Singh Nanda, distinguished genealogy was released at the hands of mobile ambulance. The Mayor diparaja pardikara, opposition leader TANAJI vanave, Senior Councilor Sunil Agarwal, corporate secretary Harish Dubey, health officials (in.) Dr. Anil civhane, health officer (sanitation) Dr. Pradeep dasaravara, Medical Officer Dr. Vijay Joshi.